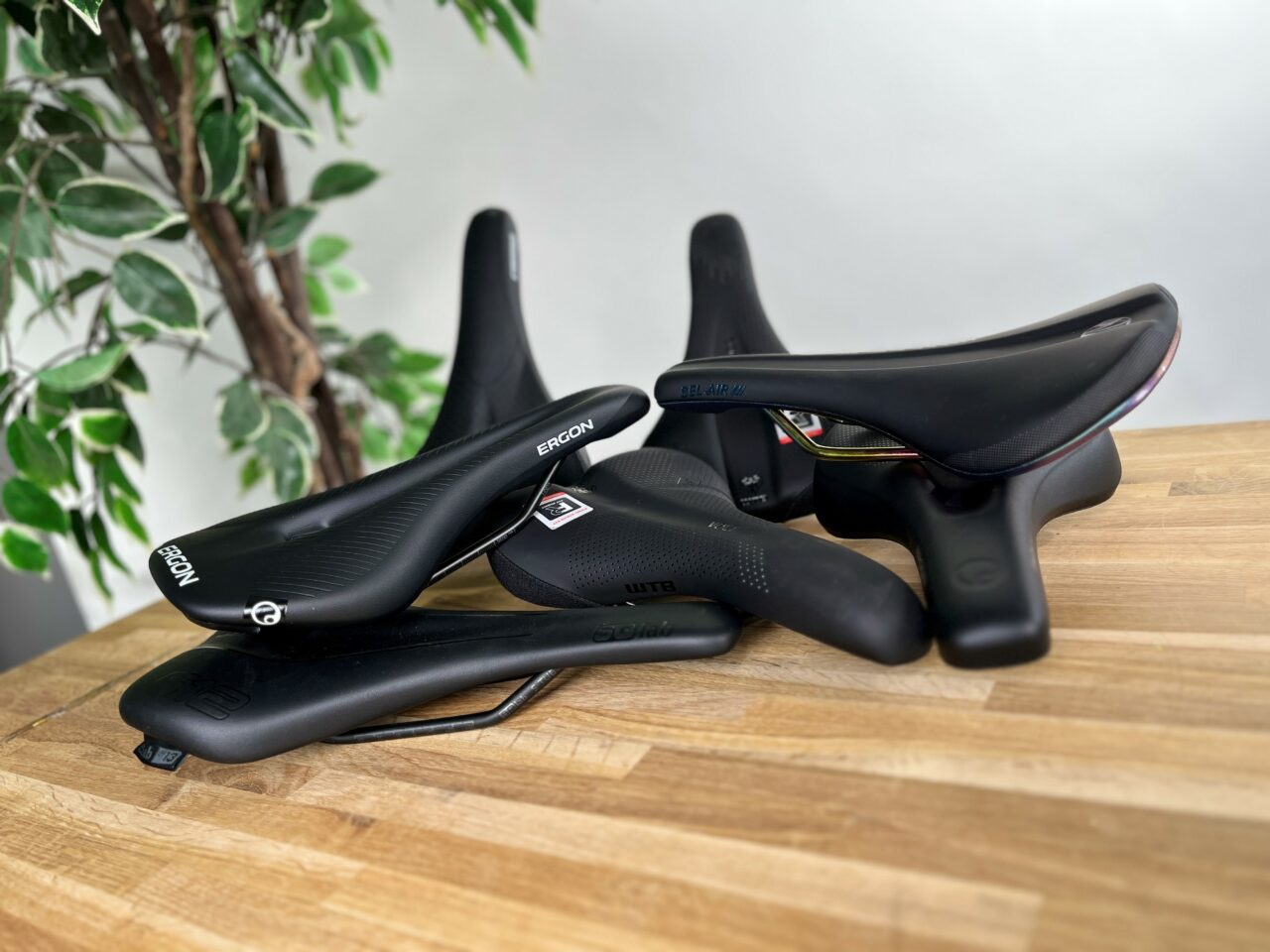 There is nothing worse than riding an uncomfortable bicycle saddle. Like, literally nothing. It can ruin your ride, ruin the bike, ruin the road or trail… They're just a pain, literally and metaphorically speaking. But how do you find the right one for you?
Saddles can be very personal, so it pays to experiment a little bit, as well as dispel a few saddle myths. First off, more padding and width do not automatically mean a saddle is more comfortable and supportive. In fact, more of either or both can be a BAD thing! So don't assume you need a sofa of a sofa in order to comfortable, or that saddle that looks closer to a razor blade is going to uncomfortable.
It all comes down to preference, as well as your body shape and riding position. If you have wide sit bones, you'll need a wider saddle to suit and of course the opposite is true of those with narrower sit bones. Your riding position also plays a part, as a more aggressive ride positions will be better suited to saddles with more padding around the nose of the saddle, whereas this is less important for those with a more upright, relaxed position.
To help make sure you're sitting comfortably, we've compiled a list of our favourite saddles that suit a wide range of body shapes, riding positions and riding styles. Don't think that you can't use an MTB saddle on your road bike though!
Unisex all rounders
We'll start with two of our favourite all rounders; saddles that are suitable for pretty much any bike and any rider, whether they be may be male or female. The ever-present Madison Flux is available in a range of options, with the Classic or more generously padded Switch version offered in regular or Short variants. The Short variant is also wider at 150mm over the regular width of 142mm. The Flux is perfect for a whole host of riders, male or female and road, MTB or leisure use. It's cracking value as well, so it's easy to try out without breaking the bank.
Another favourite is the WTB Koda. Again, the Koda is available in two widths, and while it was originally intended as female-specific saddle, it's so comfortable that the guys at WTB themselves and Jurgen here at Tweeks Towers use it on their MTBs. Like the Flux, it's also great value; don't think you have to spend a fortune on a saddle in order to be comfortable. If you just want a saddle that is no-nonsense, fit and forget and super comfortable, you can't go wrong with the Flux or Koda on pretty much any bike!
MTB
Our favourite MTB saddles are an easy choice. The SDG Bel Air has been around in various forms for over 30 years and the latest Bel Air 3.0 is the very best yet. The Bel Air 3.0 is available in a huge range of models and colours, from the entry-level Traditional Steel model right through to the super light carbon railed version. Our pick of the rank is the Lux Alloy variant; not only is it lightweight, tough and super comfortable (and the saddle of choice for Bike Expert Tom) it's also available in a range of colours, so you can match or clash your bike to your heart's content!
Another great choice for your mountain bike is the venerable WTB Volt. Like the Bel Air, it's available in a number of versions, with various saddle rail material options, as well as 3 different widths. Like the Bel Air 3.0, it has a curved tail to give excellent support when climbing seated, while the dropped nose is a perfect perch for steep ascents and ensures it doesn't snag on your shorts when descending. It's another great value choice as well, starting from less than £35!
Road
Compared to MTB "specific" saddles, their road bike brethren tend to be slimmer in padding and width. On the road, weight (or lack of it) is a much greater consideration, so the saddles will try to cut the grams out as much as possible, relying on flex in the body of the chassis to provide a sum of the comfort. One of the perfect examples of this is Ergon's SR Road Comp. Compared to the popular SM Enduro Mountain Bike Saddle, the padding is much thinner and made from Orthopaedic Comfort Foam to offer excellent comfort for the lowest weight.
SQLab's distinctive Ergowave saddles show there are two ways to skin a cat with their unique shaping. The wave-like shape and raised rear section provides perfect rearward support and an optimal pressure distribution which reaches deep into the body structures resulting in improved power transmission, attributes which make the 612 Ergowave Active Saddle perfect for use out on the open road. It's also available in a wide range of widths to suit different size sit bones, making a versatile all-round choice for road racing or Sportives.
Hybrid/Leisure Saddles
For the more leisurely rider where comfort is the biggest priority, going bigger doesn't necessarily mean more comfortable. And we really, really don't recommend those awful, padded saddle covers either! What we do recommend our WTB's Comfort and Ergon's SFC3 Gel Saddles. The WTB Comfort has been around for what seems like forever and for good reason; it's comfortable by name and by nature with it's flex-tuned shell and deep DNAX padding providing hours of cush for long days in the saddle.
The SFC3 Gel Saddle from Ergon is rammed with tech to help make it as comfortable as possible when out and about, and is perfect for hybrid bikes and their more upright ride positions. It features their Orthopaedic Comfort Foam with Gel Pads combined with a wide, flat seating surface that are designed specifically for leisure and fitness riders on hybrid bikes. Despite all this tech, it's great value and proves once again that comfort doesn't have to cost a fortune!
---
Enjoyed this? Read more of our latest news:
Where To Next?
Looking for the latest in all things cycling, running, fitness and more? Check out our wide range from top brands.
Browse our full range of our Mountain Bike Tyres.
Come and visit us at our showroom in Wrexham.
Interested in everything we do? Catch up on all the latest Tweeks Cycles news.