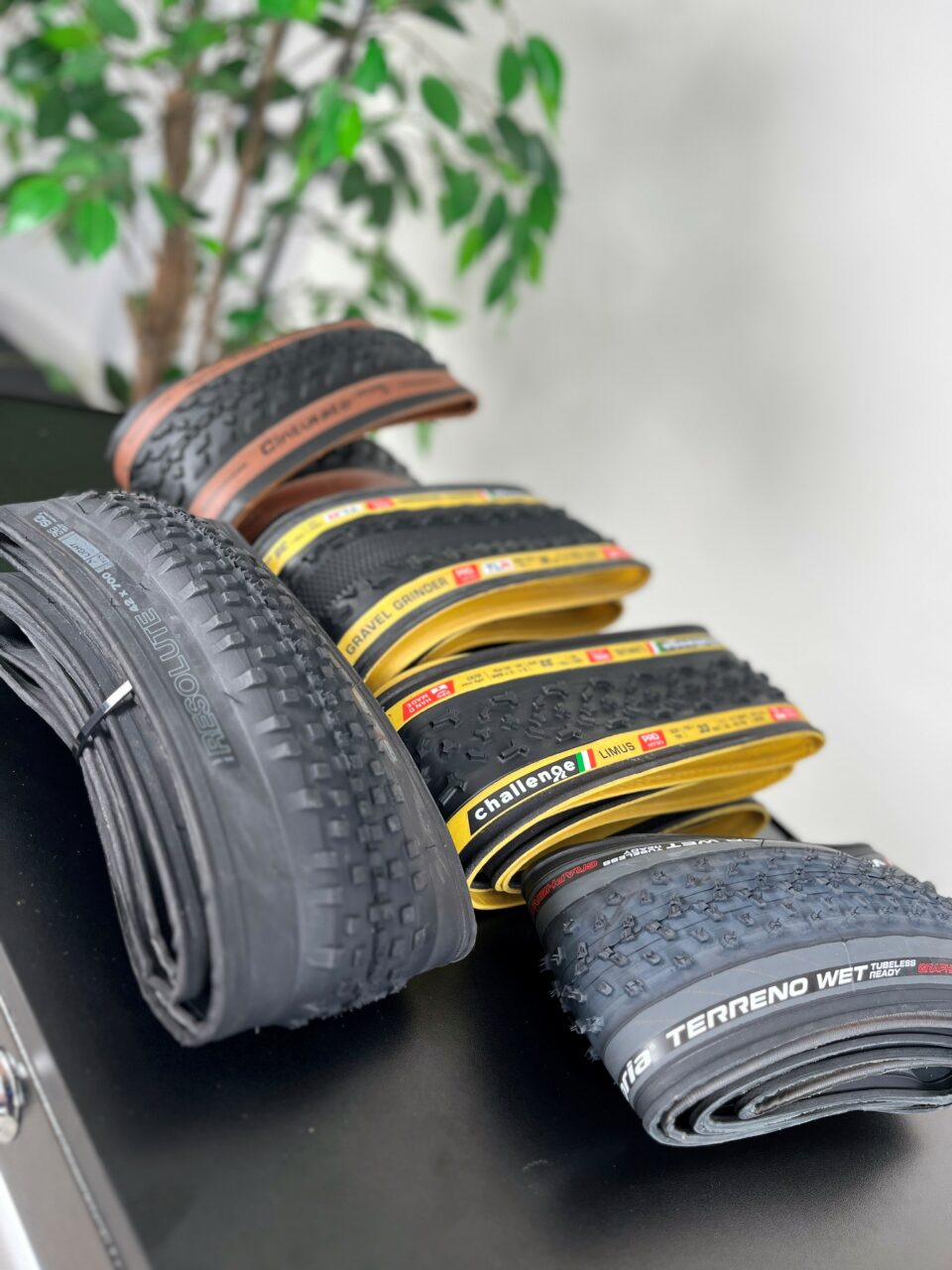 Cyclocross season is here, mud pluggers rejoice!! Cyclocross racing can be amazing fun, but it pays to have the right rubber for job. Wet, muddy and grass-filled courses bring up their own challenges, so having tyres to suit the conditions can make or break your race. With gravel bikes growing in popularity and a number of winter gravel events on the calendar, you can even turn your racing focus to the path less pedalled, whether that be for a gravel race or if you just want to explore gravel roads in the wintertime. We've picked out our favourites in this cyclocross race and gravel tyres guide to help you stay rubber side up this season!
Challenge-ing Terrain
By far and away our biggest selling cyclocross and gravel tyre brand at this time of year is Challenge, and with their huge range of tread patterns and casing options to choose from, as well as the fact they're the tyre brand of choice for almost any professional cyclocross racer of note, it's easy to see why!
Challenge's tyres are available in traditional vulcanised rubber form or their unique handmade SuperPoly open tubular style, which offer options for all budgets and preferences. The Limus and Baby Limus are true legends of the cyclocross circuit for good reason; they offer tonnes of grip, are fast rolling, shed mud easily and super versatile. Run them tubeless or with tubes and these tyres will see you through pretty much any winter cyclocross conditions. They're also UCI-legal with their 33mm width
A great choice for winter gravel riding is the Challenge Gravel Grinder. The knurled tread might not look up too much, but the comparatively huge side knobs help with traction and make them perfect for fast, hardpacked and frozen solid winter gravel routes. The Gravel Grinder comes in a wide range of sizes to give you more cushioning than a cross tyre too.
What's Your Terreno Of Choice?
Another favourite of racers is Vittoria's Terreno range. While the Terreno Dry and Terreno Zero are best kept for the summer months, the Terreno Mix and Terreno Wet are perfect for winter mud plugging. The Terreno Wet is super aggressive to dig deep into mud and clear it with ease, making it perfect for wet courses, while the Terreno Mix is a fantastic all conditions tyres which work well on sand, mud or grass courses.
Both are available in tube or tubeless ready versions as well UCI-race legal 33mm width and a more gravel friendly 38mm version to boot. They might lack the fancy construction of Challenge's tyres, but these Vittoria's are a great choice for riders who want dependable performance, all through winter.
More Italian Rubber
Is it just us or are all cyclocross tyres made by Italians?! Pirelli are one of the oldest tyre companies in the world but have only branched out to cycling in the last decade or so. They've been more than worth the wait though. Building off their Cinturato car tyres (which are even used in Formula One), the Cinturato Cross and Gravel Tyres are just the ticket for a wet winter of madness!
The Cinturato Cross and Gravel M tyres feature more aggressive, deeper tread patterns than their Cinturato H stablemates, making them ideal for softer, wetter conditions. The Cross M is only available in a UCI-legal 33mm width, while the Gravel M is available in a huge range of sizes, including 650b, as well as a tan-wall classic version. Who doesn't love the option of tan wall tyres?!
Winter Tyre Belters
Ok, WTB actually stands for Wilderness Trail Bikes rather than that, but their range of tyres still has plenty of offerings for wet, winter conditions. They may not do a UCI-legal Cyclocross tyre, but for amateurs looking for something with a little more volume and comfort or a solid winter gravel tyre, they are definitely worth investing in!
Our best picks of the WTB range are the classic WTB Nano, the brilliant Resolute and the super gnarly Sendero. The Nano is a true favourite of many riders for good reason; it's just a solid, reliable choice that work well in a huge range of conditions. Those looking for something similarly versatile but with a bit more bite should check out the WTB Resolute. The Resolute has a deeper and more open tread pattern than the Nano to digger into the ground better and offer improved grip, but it still rolls quickly on hardpack as well.
By far and away the most aggressive gravel tyre available is the WTB Sendero. This tyre is a true beast and is more aggressive than many MTB tyres! In the tan wall colour, you could even mistake for a mountain bike tyre from the 90's thanks it's Onza Porcupine-like tread pattern (for those not old enough to remember the Porcupine, google it!). If you want nothing more than all out grip on your gravel grinder this winter, the Sendero is the perfect choice!
---
Enjoyed this? Read more of our latest news:
Where To Next?
Looking for the latest in all things cycling, running, fitness and more? Check out our wide range from top brands.
Browse our full range of our Mountain Bike Tyres.
Come and visit us at our showroom in Wrexham.
Interested in everything we do? Catch up on all the latest Tweeks Cycles news.