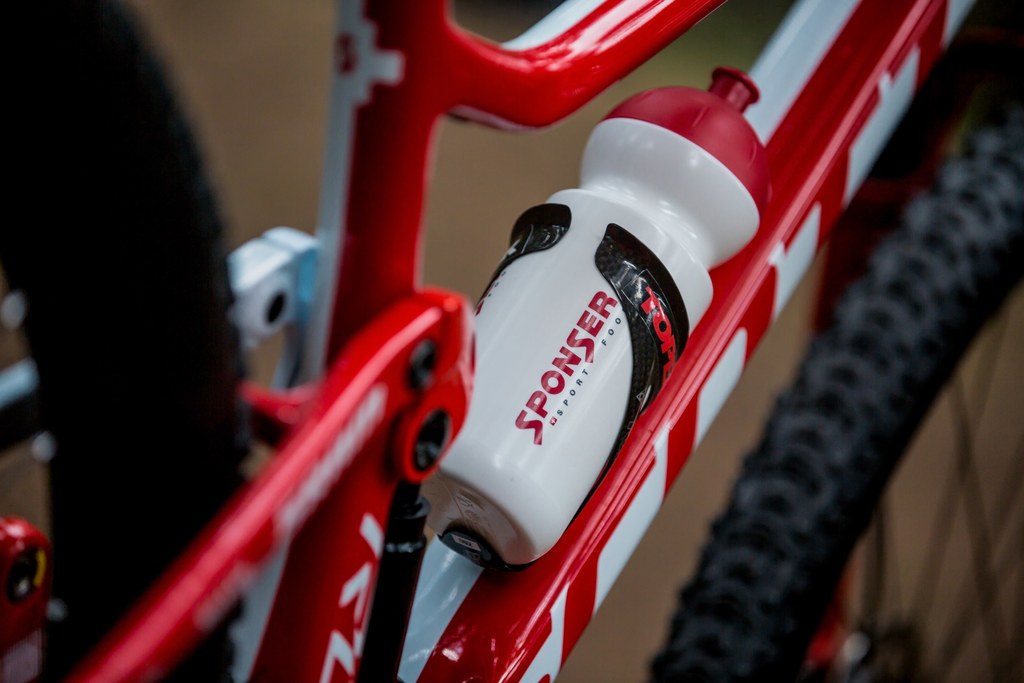 With nutrition and hydration playing key roles in how we
perform on the bike we felt it was important to take a look at a number of ways
in which cyclists could benefit from improved nutrition
and hydration – and we don't just mean grabbing a Mars bar or a pasty before
you go out and a swift pint on your way back home, either! You know who you
are.
Many of us will have something to eat before we go out
for a bike ride, stocking up on energy and venturing out ready to tackle the
road or trail ahead. You probably also grab a quick swig from a hydration pack
or water bottle when you feel thirsty or need a boost. That's perfectly fine
and highly advisable, but does that mean you're eating and drinking in a way
that will keep you fit and healthy?
What are the best ways of staying hydrated as a cyclist?
Okay, so, as we mentioned there are plenty of people who
take a bottle or hydration pack filled with water or their favourite flavour of
squash out with them on a ride. While that's fine, you're taking on fluids and
attempting to get some energy into your system, there are even better ways to
stay hydrated and keep you on top form. A popular option, used by pro riders
and by thousands of amateur cyclists during their ride, is to mix water with hydration
tablets. A bit like effervescent vitamin tablets which dissolve in water, flavoured
hydration tablets help to rehydrate you during and after your ride. What's
great is regardless if you prefer having a water bottle in the cage or a
hydration pack, then you can grab a quick drink from as you ride or when you
stop for a break and keep you fluid intake high as well as replacing all the
electrolytes and other crucial things your body needs to keep performing under
pressure.
Drinking little and often while you're on the bike is the
best approach, enabling you to not only replace the water you've lost through
sweating, but to set you up with a good store of fluids and energy for the
miles ahead of you.
This particular tip was emphasised by Performance Cycling Coach, Holly
Seear. She told us "Taking on board fluids and food is generally best
little and often, this ensures energy levels are kept topped up throughout your
ride and you hopefully avoid digestive issues."
Holly added "If you have a bike computer you can set it
to beep every 20 - 30 minutes to remind yourself to eat and drink at regular
intervals. Start eating and drinking early on in your ride, don't wait until
you are hungry or thirsty, by then it is too late. If you are not confident
eating and drinking on the bike while still moving this is a key skill to
practise. Ideally pick a quiet, traffic free, location and practise until you
are sure you can do while still pedalling and looking ahead at the road.
"Dehydration can have a huge impact on performance and of
course in extreme cases can be very dangerous. For a short training session or
ride less than an hour water will probably be enough, but on longer rides you
might want to consider adding electrolytes and carbohydrates. We lose
electrolytes in our sweat such as sodium, potassium, calcium and magnesium
which are vital for normal cellular function. Energy drinks commercially
available will contain electrolytes and carbohydrates or for a calorie free
source effervescent electrolyte tablets are a good choice."
What should I be eating prior to cycling?
In terms of preparing for a ride with some healthy, high
energy food it's all about getting your portions and timings right. Eat too
much and it will sit heavily as you ride, affecting your performance, but eat
too little and it can have the opposite effect leaving you struggling to find
the energy and strength you need.
Cycling creates what is known as a calorie deficit, often
requiring and using up more calories than you take in normally. With this in
mind it's never a bad thing to eat more before a ride than you would before
venturing out normally – it just needs to be more of the right things. What do we mean by this?
Carbohydrates are the body's main source of energy, with
sports scientists recommending that you consume a ratio of between 5 and 9
grams of carbs for each kilo you weigh. To put this into context, this would
mean a 70kg adult would need to consume at least 350 grams worth of
carbohydrates to create and store enough energy in the muscles.
The best way of doing this before your ride is to have a
portion of slow-release carbohydrates, the kind of foods that deliver their
energy stores over a period of time rather than generating energy in one
instant lump of caffeine or glucose like an energy gel or drink would. Good
sources of slow release carbohydrates include fruit and vegetables so an ideal
pre-ride meal might be a bowl of porridge or cereal that contains some fruit,
or if it's more of a midday meal then wholegrain rice mixed with some
vegetables would set you up well.
While you're out on your ride you can keep stocking up on
energy, too, in the form of energy
bars and gels.
Having emerged as an excellent source of sports nutrition over the course of
the last decade or so, these small but highly effective sources of energy can
give you the boost you need to keep going and are great for consuming on the go
or during a quick break.
Performance Director at Spokes,
Pav Bryan, advises that there is no one size fits all approach to nutrition for
cyclists with every rider needing something different. "We have different
tastes, break down macro-nutrients differently in the stomach and require a
different amount of micro-nutrients," he said.
"While there's no quick way to identify this, you could
consider DNA and blood testing (like the testing we provide our clients at
Spokes). This will save you a huge chunk of time and help you make smarter
choices about your nutrition. If you're not willing to spend the money yet, you
could try logging everything you eat and trying different strategies out. You
will need to give each strategy at least 2 weeks (better a month) to see
results though.
"While there's no one right answer to what nutrition
works best, trying out different strategies and diets will help you identify
which works best for you, keep a diary and note down anything that works and
what doesn't."
Nutritional advice for cycling endurance
Training for long-distance rides is never easy meaning you
need to prepare for every practice run as if it's a race. Getting your
nutritional intake right in training will certainly help when it comes to the
big day. Pav says: "If you are planning on riding long distances, you might be
better off helping your body become more 'fat adapted'. This is essentially
teaching your body to burn fat better as a fuel. Even the best and leanest
cyclists have huge stores of energy throughout their body; fat. If you can
train your body to utilise fat as a fuel (over carbohydrates), you will be able
to ride longer with less fuel. This is ideal as you have a limited store of
carbs in your body and can't replenish them that quick neither. For long rides,
being fat adapted is key to success."
Holly, meanwhile, advises that cyclists should find a
method that works and stick to it, rather than making last-minute changes on
the morning of the race.
"One of the key 'rules' is nothing
new on event day, so if you have entered a sportive or a race then don't eat or
drink anything you have not tried previously on your training rides," she said.
"Certainly if you plan to use specific sports nutrition such as energy drinks,
energy bars or gels then you need to practise with the same ones in training
and at a similar intensity level to your event to ensure your stomach can
tolerate them. If you have entered an event with feed stations then try to find
out what will be supplied and try in training or take your own supplies.
"The nothing new rule also applies to dinner the night
before and breakfast on event day. It is certainly unwise to have the spiciest
curry you have eaten the night before for instance!"
What should I be eating after cycling?
If you've eaten properly before and during your ride, you
might not be fancying too much to eat – even after a big ride of several hours
or more. As you become more accustomed to pre-ride meals, you might find that
you've still got enough carbs in your system to keep you going for a bit longer
and therefore you don't fancy such a big evening meal.
With that being said, some dietitians and nutritionists
recommend that the first half hour after a ride is the best time to start
consuming more food as it can get into the muscles and system while they're
still repairing themselves. High protein foods like chicken mixed with
carb-rich foods including baked potatoes can give you the kind of replenishment
you need to minimise the tiredness and to help repair your muscles, stock up on
more energy and give your body the minerals it needs, too. Protein shakes and
drinks are also becoming increasingly popular for post-ride nutrition, helping
your body recover better, as well as building muscle-mass. While all this post-ride
eating and drinking might not sound as good as a Fast Food burger on the way
home, it'll keep you in better shape so you can ride harder and faster on your
next ride!
Where can I learn more about nutrition in cycling?
Social media is awash with some great accounts, all
providing plenty of information on what to eat and drink – and when – so we
highly recommended following Holly, Pav and each of these accounts to learn
more about nutrition in cycling:
Who else should I follow online?
To learn more about life on the Tour, being a
professional cyclist or the latest product releases and innovations; it's worth
following these guys on Twitter, too:
Keira McVitty – Road and Track Racing - @ginger_biskwit