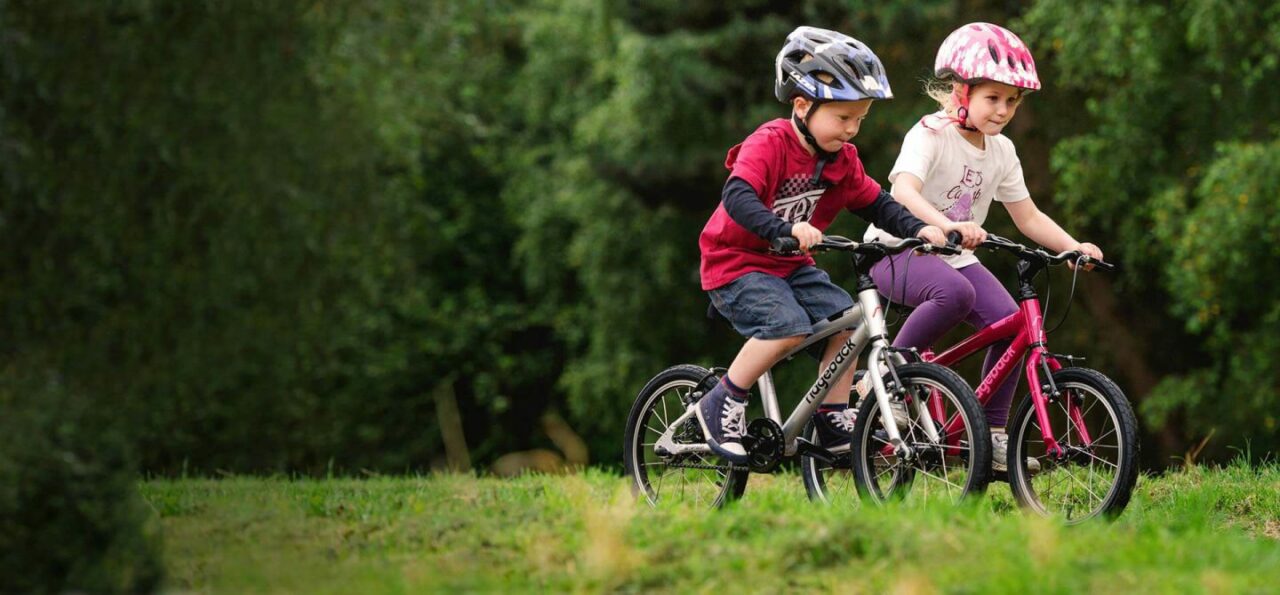 The springtime and school holidays represent the ideal
time to get outside. Thinking back to our own childhood's, being off school
meant spending hours in the garden or out in the park with friends and family;
perhaps even out on bike rides and as we've reached that time of year again
it's time to turn our attentions to our own children and how to get them into
cycling.
The countryside, National Parks and playgrounds are often
filled with people riding their bikes and as the weather improves we're likely
to see more and more ditching the car and cycling to work instead – perhaps
making your kids take note and think how much fun it must be to ride their
bikes.
Whether they've ever ridden a bike before or they own a
bike but don't really use it, perhaps this summer could be the one where they
really get into cycling. Now, we might be slightly biased (and make no
apology!) but cycling is great fun, especially with the range of great bikes on
the market these days and particularly kids bikes.
5 tips to get your children into cycling
So how do you convince your kids to get out on their
bikes? Sure, you can buy them a brand new bike to get them out for the next few
weeks of school holidays and for the summer; but how do you actually get your
children into cycling? Here are some top tips:
Start them young. It goes without saying that
the younger you start a hobby the more likely it is to become a passion. While
your children may already be 7 or 8, for example, it's never too late to start
cycling and the more they ride the more chance there is for them to fall in
love with cycling before other interests take over.
Cycle everywhere. To the grandparents' at the
end of the road, to school or even just to the park and back; rather than
walking get on your bike with your kids and the bike might become their go-to
form of transport. Before long, and as they grow up getting safer and more
confident on two wheels, they'll start riding to the shops and to see their
friends rather than walking or relying on you for a lift!
Reward them with cycling gifts and equipment.
Now, we don't want to tell people to go out and spend hard-earned money, but if
you do believe in rewarding your children – perhaps for an excellent parents'
evening or for keeping their room tidy – rather than giving them a new computer
game, reward them with a new water bottle for their bike or perhaps a new set
of bike lights that will make them want to keep riding everywhere.
Bikeability (aka cycling proficiency). A test
might not sound like fun, but the old cycling proficiency test you may have
taken at the age of 10 or 11 is a great way of teaching your child to ride a
bike safely as well as new skills such as when to change gear, how to steer the
bike and how to check on the condition of the tyres. Best of all, they come out
of it with a certificate saying they've passed!
Cycling holidays. If you're going away but
staying in the UK this summer, why not take the bikes with you and explore the
local area on two wheels. It's a great way to spend time together, seeing the
sights and encouraging them to ride both further and for longer.
The best bikes to get kids into cycling
If you think this is the right time to treat your child
to a new bike – or perhaps even their very first bike – then we've got some
great new kids' bikes that are perfect for first-timers and youngsters getting
into cycling.
Ridgeback
Scoot Beginner Balance Bike. (USE PRODUCT IMAGE)
Finished in a range of stylish colours, the Ridgeback Scoot Beginner Balance
Bike is a great model for kids to start riding on at a young age. With a handle
for you to hold to guide them on their way along with an easy to use back
brake, they'll be up to speed in no time!
Scott
Roxter 14 Kids Bike. Another perfect starter bike, the Scott Roxter comes
with easily removable training wheels giving you the potential to fit them, or
remove them, as your child's confidence and ability develops. Finished in a
great green and orange design it also comes with V-brakes and a stem protector
to look after the frame when it comes to inevitable mishaps along the way!
Cube
Acid 200 Kids Bike. (USE PRODUCT IMAGE) Lightweight,
easy to handle, even easier to ride and available in two colour schemes; the Cube
Acid 200 is a child-size adaptation of the adult bike. With smooth gearing it's
one for older children ready to use a geared bike; while the strong frame is
ready to stand up to the tests of on and off-road riding.
Raleigh
Zero 24 Kids Bike. A lot of cyclists start out with a Raleigh – it's a
British cycling icon after all! The perfect choice to get your child riding
comfortably and with brakes and gears they can use themselves, the Zero 24 is
built for young children with a strong, lightweight aluminium frame that's
ready for anything.
Scott
Scale RC 24 Kids Bike. Once they're really ready to hit the off-road
trails, this is the mountain bike to choose. Mountain bikes present the ideal
opportunity to throw the bike around and get some speed up, taking on jumps and
mud without any issues. Scott is one of the leading names in the mountain bike
sector and the Scale RC 24 comes with the kind of spec you'd expect on an adult
mountain bike – excellent travel on the forks, SRAM drivetrain, hydraulic disc
brakes and grippy Schwalbe tyres.
The best cycling helmets for children
Witch cycling equipment you can go one of two ways. You
can either buy everything going to protect your child, or you can buy the most
important piece of equipment – a cycling helmet. If you're in the position to
buy one item then a helmet should always, 100% of the time, without debate, be
that piece of equipment. With that in mind, here are our recommendations for
the best kids' cycling helmets:
Met Elfo
Kids Helmet. A comfortable and stylish kids' cycling helmet, the Met Elfo
has a shock absorbing inner shell and hypoallergenic padding offering all-round
protection.
Bell
Sidetrack Kids Helmet. (USE PRODUCT IMAGE) One
of the industry's leading manufacturers of safety equipment, the Bell Sidetrack
kids cycling helmet is ideal for both boys and girls and offers the kind of
protection that lets them shake off any fear they may have!
Scott
Spunto Junior Plus MIPS Helmet. Offering all-round protection and immense
comfort, the Scott Spunto Junior Plus helmet offers the kind of protection
usually only found in adult cycling helmets to keep your child safe on any and
all rides.
How do I measure a cycling helmet for my child?
Measuring a child's cycling helmet is a fairly quick and
easy process. If you own a tape measure simply wrap it around their head
covering the widest points – the forehead and crown – and measure the overall
diameter. From that point on you can judge the size of the helmet accurately as
you don't want a helmet with so much room it can move around and provide no
support, but you also don't want it so tight that it puts pressure on the head.