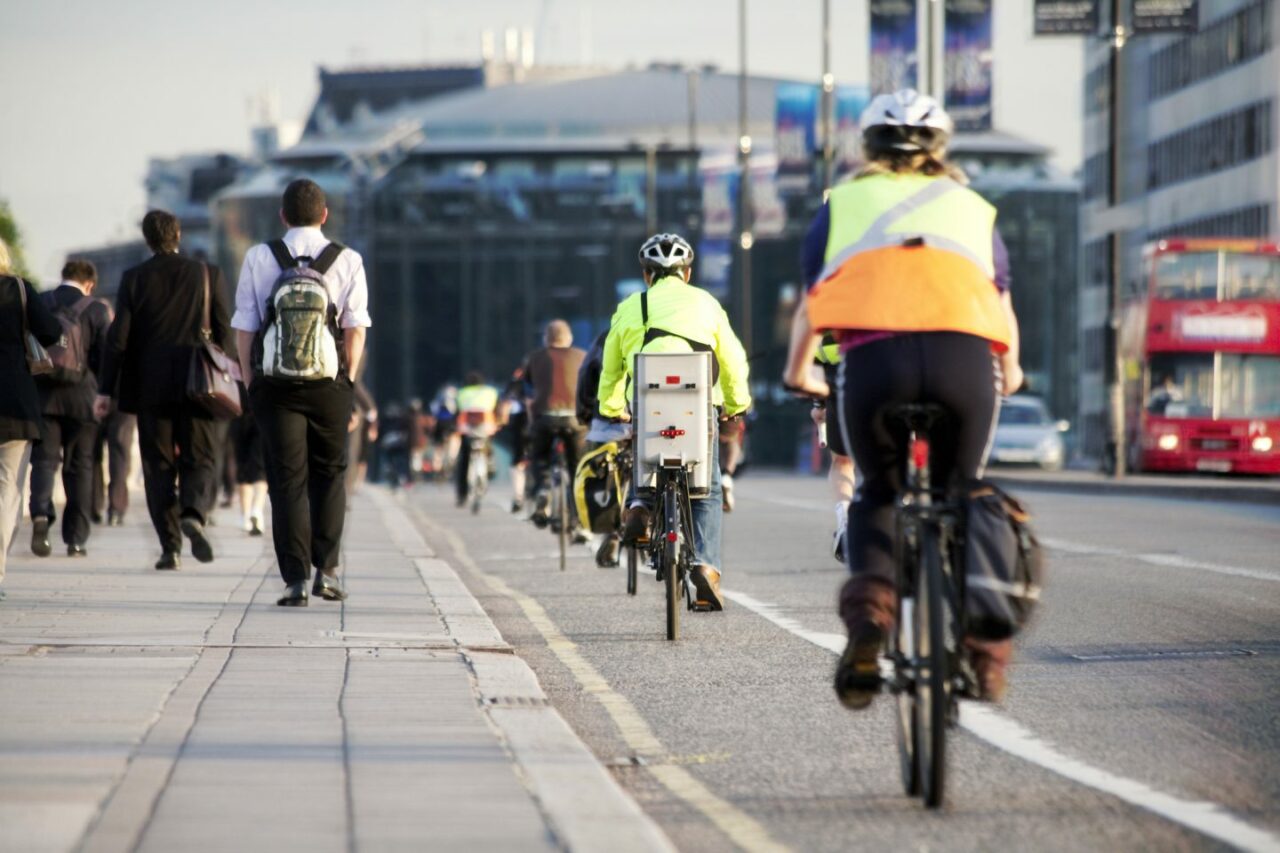 When we were kids, we didn't really need to think about keeping fit – our lifestyle had it sorted. We ran around all day, swam in the river and went on bike rides. There was probably some other stuff too – skinned knees, school bullies, terrifying clowns, etc., but let's focus on the positive for now eh! Anyway, nowadays most of us (unless you're still enjoying the benefits of education or are especially well-heeled) have jobs. Along with the fact that you're not getting any younger, jobs have a tendency to make one … a little … well, fat – especially the dreaded desk job, where you sit on your behind for eight hours a day staring at a screen. Unfortunately, given that jobs also sap most of your free time, many of us either can't or won't do any exercise when we get home. That leaves you with the weekend – which tends to be a hectic affair at best.
The solution could be at hand, however, especially if you currently have a short-ish trip to work. We're talking of course about leaving the Rolls at home and getting on your bike! Although Britain still lags behind mainland Europe in terms of bicycle commuting, it's becoming a more and more popular way to get to the daily grind – and you can certainly see why when you look at our insane fuel prices! Many people find cycling on the road (especially around rush hour) a bit daunting – and when you consider our weather (and general driving ability) you can see why. Because of this, we've put together a list of 5 essential bike commuting tips. Even just commuting for a few days a month could help to shed the pounds from your waistline (whilst keeping a few more in your wallet), and will energize you for the day ahead - so read on to find out how!
1. Make sure your bike is up to it
The first thing to do is to make sure that your bike isn't falling to bits. Even if it's not quite there yet, constant road use will put a lot of strain on it, so you'd be wise to at least give it a check – especially the brakes! If you're not confident in your own mechanical expertise then you could always get it checked by a professional – our Cytech qualified technicians here in Wrexham will be happy to do this. Given that you'll be spending a lot of time astride your trusty steed, you also need to check that you're comfortable with the way it fits.
There are a few things that you should consider fitting to your bike for commuting if you haven't already. Bike lights and reflectors are a requirement in Britain if you're going to be riding at night, so these are obviously important – especially as winter draws in. Given that cars are now required to be fitted with daytime running lights (DRLs), it's probably a good idea to do the same with your bike. There's no need to get something massive for this purpose, but a tiny light like the Scott Blinx Rear Light (paired with the matching Scott Blinx Front Light) will make you much more visible on the road during the day. They also work really well as backup lights for dark rides.
Given the multitude of spiky objects that spread themselves across our roads (especially if it's been windy), you'd be wise to consider fitting some puncture-resistant tyres too. The big daddy of these is the Continental Gatorskin, which has an anti-puncture layer thick enough to stop even the spikiest of spiky things. You can also fill your inner tubes with tyre sealant goop which can prevent punctures – and for the ultimate in overkill, you could do this in conjunction with a puncture-resistant tyre.
Other things to look for on a commuter bike include mudguards, a chain guard (to stop your pants getting ripped), and of course, a nice shiny bell!
If your bike has the option to fit a pannier rack then this is a must for carrying your clothes and work gear. pannier bags are available in a large variety of shapes and sizes so you will have plenty of room for carrying all of your daily essentials. If you don't have the option for panniers then a good old backpack will do the job. You can make any old backpack waterproof and high-vis with the excellent Altura Night Vision Rucksack Cover that we sell, too!
If you don't already have a bike, or yours really needs replacing, then you're in the right place! We sell some great bikes that are perfect for commuting - with many having been designed specifically for this purpose.
When choosing a commuter bike you will normally have the choice of a flat bar bike or a drop bar bike (racer). One of the best ranges of commuter bikes with flat bars comes from Scott in the form of their Sub series. Check out the Scott Sub Speed 10 for instance. This thing is an absolute commuting beast - and comes complete with Shimano Alfine hub gears mated to a Gates belt drive (no chain here!). Thanks to these features it's gifted with near-silent, low maintenance running - and it looks super trick!
If you decide to commute on a drop bar bike then one of the best ranges is Genesis. Most bikes in the Genesis range are made from Steel or Aluminium so they can withstand the rough British roads while a large selection of them come with pannier mounts and full mudguard clearance.
2. Dress to impress
Obviously, you're going to want to wear a bike helmet, but what about covering the rest of you?
If you're only doing short/leisurely commutes then riding in your normal clothes will be ok, although given the unpredictable British climate a decent packable waterproof jacket and waterproof cycling trousers are a good idea just in case the weather does change during the day. High-vis is generally a bonus too!
Commuters who are doing longer rides (over 10 miles) will want to dress a bit more cycling-specific. During the summer, a good pair of cycling shorts along with a long or short sleeve cycling jersey will keep you comfortable and cool. Optional leg and arm warmers are good to carry in your bag in case the temperature changes throughout the day and a lightweight gilet and packable rain jacket will help to keep you dry, should the heavens open!
For chilly early morning rides, a lightweight pair of long fingered cycling gloves will do the job of keeping your hands warm. For days when the sun actually decides to show its face, a pair of fingerless gloves will be also useful. Last but not least, don't forget a pair of sunglasses for not only keeping the sun out of your eyes on sunny days but keeping the wind out of your eyes on colder days! These are also available with clear or lightly-tinted lenses for darker rides.
A lot of bicycle commuters like to use clipless pedals– you know – the type where your feet are clipped in (intuitive name, we know!). Casual commuters will find that these aren't a necessity - but they can still be a nice thing to have. In this case, Shimano M324 SPD Pedals are an ideal choice - because they are flat on one side and have an SPD mechanism on the other - meaning that you can ride in either SPD-specific cycling shoes or in whatever you'd normally wear.
Riders commuting for longer distances will find that clipless pedals are a must. Given that most longer commutes are done on road bikes, then a set of specifically-designed road clipless pedals will be the best choice.
Don't forget that if you do decide to go for clipless pedals, then you're going to need a pair of shoes designed to go with them. For the more casual SPD design, you'll probably be looking at a pair of mountain bike shoes - with more focused road pedals requiring a pair of (you guessed it!) road bike shoes.
3. Know what to do
We're guessing that you can probably ride a bike already – but there's a big difference between some light trail riding on a sunny Saturday afternoon and riding a commuter route on a rainy Monday morning. If you don't know how to ride a bike on the road (and those primary school cycling safety classes were a looooong time ago now) then you should definitely make sure that you're confident riding on the road.
In the UK, the first step on your journey of discovery should be the government's big book of rules (otherwise known as the Highway Code for Cyclists). Some of the important points in here include not riding on the pavement (because pedestrians don't like being run over by you), using hand signals (and not the ones you're thinking of), and not going down the inside of trucks or other long vehicles (which is just downright silly and dangerous).
One top tip is to develop the habit of never riding too close to the kerb. This will mean that you have a safety gap to move into to your left, should you ever need to. Developing your bunny hop technique can also be useful for the same reason (although you should only ever do this on the road in an emergency). In a fix it should allow you to quickly hop out of the way of an obstacle or hazard without getting off your bike or stopping. If you do ever find yourself pulling this off, then you'll also look like a total hero!
Many bicycle commuters recommend investing in an action camera like a GoPro to bring along with you - which can provide some measure of proof in the event of an accident, and will often make other road users more wary of your presence. If you do ever finding yourself using a bunny hop in anger like above, then a camera will also mean that you'll be able to upload the footage to YouTube and show off your awesome skills!
4. Make plans
Just like every good comic book villain, you need to make a plan (although hopefully, yours will be more successful). The first thing to do is to check the weather forecast the night before your commute so you know what kit you will need the following morning. The last thing you want is to have your summer kit ready only for it to be wet and windy when you get changed! Don't just set off one morning and decide to head in the general direction of your office – because if you're anything like us you'll probably end up on the wrong side of the country! Try to plan various routes if you can - because this will mean that you get a change of scenery every once in a while, keeping things enjoyable. For those of you who want to use commuting as a training method, then it's also good to do longer, hillier routes where possible to make things a bit more challenging.
Sustrans is a great resource for finding cycle routes in the UK – and you might be lucky and find a surprise route where you won't have to travel by road. Tools like Google Maps and Streetview are also invaluable for any form of route planning – and you should definitely consider practising your route when it isn't rush hour. This will show you all the little problems you might run into that you probably wouldn't notice in a car – potholes, dodgy sight-lines, etc.
5. Accessorise!
There are quite a few things you can carry on you or attached to your bike to make your commuting life easier. Some of these you might have already thought of (in which case, well done you), and others you might not. One of the main ones is some way to fix a flat tyre. Even with your awesome Continental Gatorskin puncture-resistant tyres fitted, there's always a risk of getting a flat – and wheeling your bike all the way home to fix one is never fun. You could carry a traditional puncture repair kit, but it's a lot easier to simply carry a spare inner tube than it is to fix a puncture in the rain. Just remember that you'll need a folding tube – and possibly more than one at that! Whichever way you go, you should either carry a set of tyre levers or learn to change a tyre without any.
A pump is another important bit of kit – and as a commuter, you're probably going to want either a mini-pump that you can stow away somewhere, or save your forearms and get a CO2 tyre inflator – which, let's face it, are trick as hell! Finally, if you're not carrying a bicycle multitool, then quite frankly, you are a tool!
It always pays to carry a mobile phone in case of serious mechanical issues, injuries or other roadside emergencies, but you probably don't want to get your brand new smartphone soaked in a downpour. To avoid this, you could either get a cheapo pay-as-you-go phone for commuting purposes, or just put an expensive one in a Ziploc bag! A rather spiffing solution is also available in the form of Ibera's range of waterproof phone cases. These things even come with a mount that will attach to any 'ahead' type stem - letting you place your phone where you can see it whilst riding.
It's also worth noting that ID should be carried when out and about riding. If something bad does happen and you get made unconscious, remember that your bike doesn't have any number plates to let anyone know who you are, so carrying some ID will mean that medical staff can view your records and inform your family of what's happened.
It may not be an essential but a cycle computer or GPS unit is great thing to have so you can keep track of how far you have travelled and more importantly how fast. This is not only good for your training but it's also good to show off to you mates about how many miles you are doing a week!
When you park your bike up, you'll need a bike lock if you're leaving it outside – and check out our recent post on bicycle security for some handy tips on how to avoid getting your bike nicked! You might want to consider keeping some spare clothes, a towel and a 'clean-up kit' (baby wipes, etc.) at work for days when it pours down – and a shopping bag over your bike seat will work wonders for not getting a wet ass on your ride home! Unless the place where you work is kind enough to provide showers for cyclists, you'll probably want to invest in some Muc-Off Dry Shower too. Believe it or not, this stuff actually works really well, and will help to avoid your becoming known as 'el stinko' or something similar!
Did we miss anything? Let us know below! With the cold weather getting closer and closer, we'll be posting a winter commuting masterclass very soon - so stay tuned. For now, make the most of the rest of summer! Happy riding!