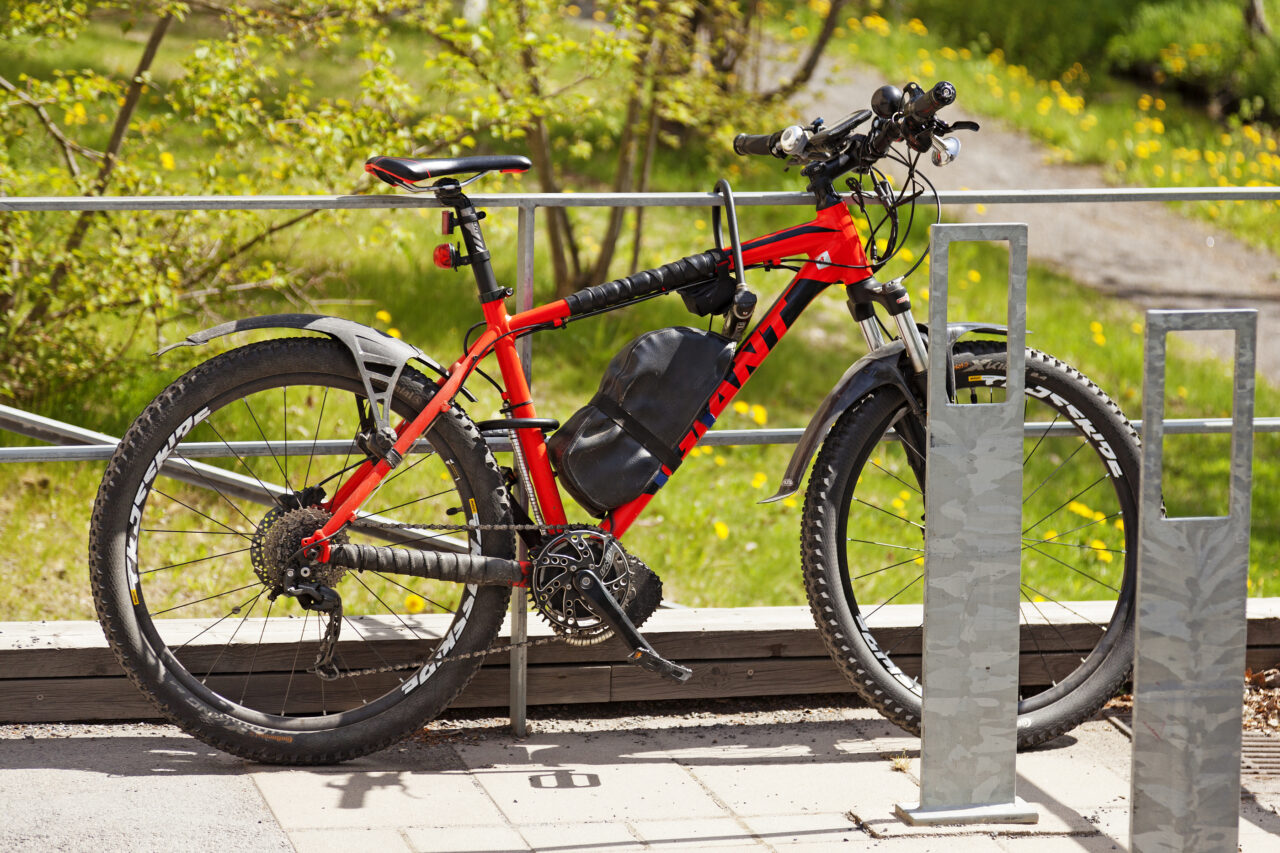 You've just bought your new bike and the last thing that you want is for it to be stolen. A Bicycle lock is an essential tool for protecting your bike from theft. Whether you're just running a quick errand, commuting to work, or securing your bike at home, it's important to have a reliable way to secure your bike when you're not using it. In this blog, we'll go over some of the different types of bike locks available and discuss how to choose the best one for your needs.
What to look for when choosing a bike lock
When choosing a bike lock, it's important to consider the level of security you need. If you live or work in an area with a high rate of bike theft, you may want to invest in a more secure lock. It's also a good idea to choose a lock that is appropriate for the value of your bike – a cheap lock may not be worth the cost if it doesn't provide sufficient protection for your expensive bike. An easy to check the suitability of a lock for your needs is to look for a Sold Secure rating. Sold Secure is an industry recognised scale of security, with 4 levels: Bronze, Silver, Gold & Diamond. The higher the rating, the more secure a lock is and what price range of bikes it is aimed at protecting.
The 3 main types of bike lock
There are three main types of bike locks: Cable Locks, Chain Locks, and U-Locks (also known as D-Locks). For securing high value bikes at home, it's also worth highlighting Ground Anchors.
Cable Locks are a flexible option that can be wrapped around your bike and a stationary object, like a bike rack or pole. They are relatively easy to carry and can be adjusted to fit a variety of different bike frames. However, cable locks are not as secure as other types of locks, as they can be easily cut with bolt cutters or other tools, so they're best used for lower value bikes in low-risk areas.
Chain Locks, as the name suggests, consist of a chain with a lock at one end. They are generally more secure than cable locks, but they can be heavy and unwieldy to carry around, making them more suitable for home use rather than carrying around with you. Their heavy-duty nature makes them ideal for higher value bikes, so look for a Sold Secure Silver, Gold or Diamond rating if you have expensive bike that needs maximum security.
U-Locks, also known as D-locks, are a popular choice for bike security. They are made of a sturdy metal shackle that fits into a lock body and are designed to be resistant to tampering and cutting. U-locks are generally considered the most secure type of bike lock, but they can be difficult to carry and may not fit all bike frames. Like chain locks, U-Locks are best for securing more expensive bikes, so choose a Sold Secure rating that suits the value of bike you have.
For securing bikes in your garage or shed at home, it's also worth looking at Ground Anchors, as these give a solid, bolted down immovable object to lock the bike too. While they may be overkill for cheaper bikes, anyone looking to make their bikes as theft proof at home as possible should definitely invest in a quality ground anchor to go with their lock.
Now we've covered the ins and outs of the different types of locks, lets check out a few of our favourites!
Tweeks Cycles top picks
Kryptonite Kryptoflex 1018 Combo Cable Lock - The Kryptonite Kryptoflex 1018 Combo Cable Lock provides you with additional security for your bike. It features a 10mm braided steel cable and a resettable integrated 4-digit combination lock. The braided steel cable adds strength for increased cut resistance.
Hiplok FX Wearable Combination Lock - The Hiplok FX is a wearable cafe style bike lock with a 1m retractable steel cable providing protection from the opportunist thief. The FX is equipped with Hiplok's Clip & Ride system, which clips on to bag straps and jersey pockets, making it perfect for locking your helmet to your bike.
Kryptonite Kryptoflex Cable 10mm x 9.3 m - The Kryptoflex Cable is ideal for accessory and quick release component lock-up. Double-looped cable for use with all Kryptonite U-locks, disc locks, and padlocks, the braided steel cable has greater core density than twisted cable, increasing cutting resistance. Teamed with a quality U-Lock, this makes for a formidable combo!
Kryptonite Keeper 585 Integrated Chain Lock – This great value chain lock is perfect for protecting lower value bikes at home or on the go. While it doesn't have a sold secure rating, the sturdy 5mm four-sided chain links made from hardened steel will still take some getting through!
Hiplok V1.5 Wearable Chain Lock - The Hiplok V1.5 is the worlds first bicycle lock developed specifically to be worn on the body. It's a seriously strong piece of kit with a Sold Secure Silver rated hardened steel chain and 12mm hardened steel shackle at its core, the Hiplok Original offers a unique blend of security and practicality never seen before.
Kryptonite New York Noose with EV Series 4 Disc Lock - The Kryptonite New York chain lock is the ultimate security solution for your bike. Made with heavy-duty, manganese steel links, it can withstand even the most determined thieves. The lock features a high-security, disc-style cylinder that is pick and drill resistant, ensuring that your bike stays where you left it.
Hiplok Easy Carry D Lock - The HipLok Easy Carry D Lock allows you to carry a mini lock in a multitude of ways due to it's unique, patent pending clip system. It can be carried with ease and total stability on a belt, a bag strap, or in a pocket meaning it is always at hand for quick access and locking. It also has a Sold Secure Silver rating too!
Kryptonite Evolution Mini 7 D-Lock with 4 Foot Cable – This D-Lock and 4-foot cable combo can secure wheels and accessories along with your bike. The Evolution Mini 7 lock has 13mm hardened max-performance steel shackle to resist bolt cutters and leverage attacks. which is Sold Secure Gold certified.
Kryptonite New York MI8 D Lock - The Kryptonite New York D Lock is the ultimate Kryptonite U-lock for cycles. 18 mm hardened Kryptonium steel shackle resists bolt cutters and leverage attacks and High security, Pick-Safe anti-pick and drill resistant disc-style cylinder lock. A Hardened steel sleeve over crossbar provides double security protection, meaning this monster is Sold Secure Gold rated.
Kryptonite Evolution Ground Anchor - The Evolution Ground Anchor from Kryptonite gives you a permanent and secure anchor to secure your bike to, either indoors or outside. It's constructed of a heavy-duty hardened steel baseplate and a 14mm special carbon alloy steel shackle that both provide resistance against cut and pull attacks.
Hiplok Ankr Ground & Wall Anchor - Designed for use with Hiplok's high security chain and D locks, the all new ANKR is the first bike security anchor with a unique easy-fit design. Independently tested and awarded the maximum Gold Level Security for both motorbikes and bicycles by Sold Secure, ANKR is perfect for inside or outside use.
Hiplok Airlok Wall Mounted Lock / Hanger - The Hiplok Airlok is the world's first wall-mounted bicycle storage hanger with integrated hardened steel lock. With a combination of maximum Sold Secure Gold level security, effortless practicality and design elegance the wall-mounted Airlok is the ultimate secure storage solution for apartment, work place or outside.
---
Enjoyed this? Read more of our latest news:
Where To Next?
Looking for the latest in all things cycling, running, fitness and more? Check out our wide range from top brands.
Browse our full range of our Mountain Bike Tyres.
Come and visit us at our showroom in Wrexham.
Interested in everything we do? Catch up on all the latest Tweeks Cycles news.