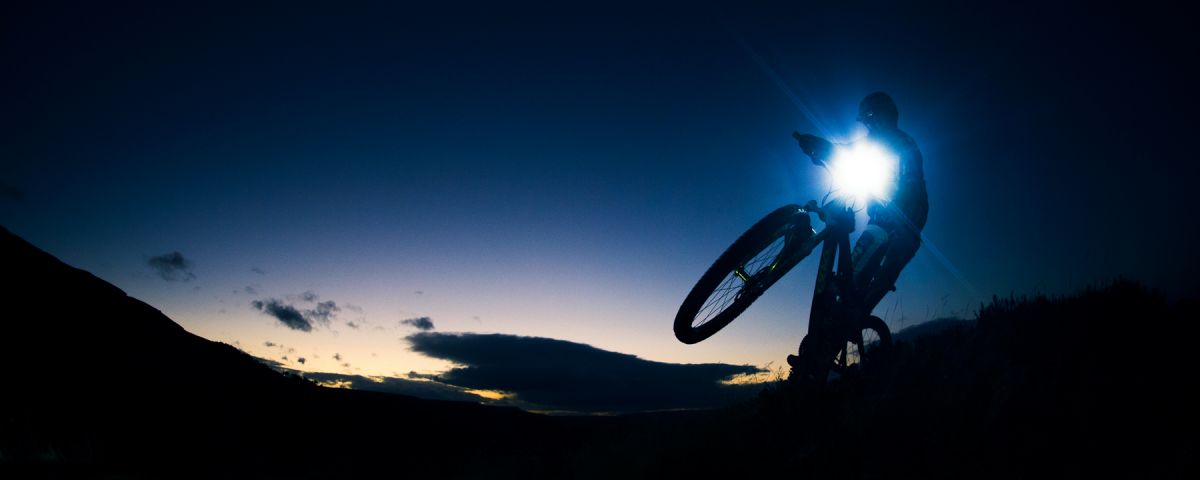 Now the clocks have turned back, and the shortest day of the year has been and gone, getting out on our bikes at night is for many of us the only way we can enjoy them. For commuters, a quality set of lights is a necessity at this time of year, with them needing to remain safe out on the road. And for mountain bikers, there is nothing like the buzz of shredding well-known trails in the dark; it can transform your regular loop completely.
The main thing we'll refer to here is lumens, the measurement of how bright a light is. The more lumens a light has, the brighter it is. Finding a quality set of lights can transform your winter riding, so we've put together a quick-fire guide on what to look out for along with some of our favourite lights!
Ruling the road
Whether you're a tough as nails commuter or a road rider looking to get some night-time miles in your legs, choosing the right lights is key to getting the most from your riding. Starting up front, you'll want a light that's bright enough to allow you to be seen and see where you're going if there's no streetlights, but you also don't want to dazzle other road users.
We'd look for a front light with around 500-1000 lumens as this will be bright enough without being overkill. At the rear, a light with between 50-150 lumens with good side visibility will help you remain visible to traffic from behind. For road & commuting lights, we often think the best bet to go for a front and rear set, as these offer the best value.
We really rate Moon's Meteor-X Pro & Comet X Light Set, which is plenty bright enough, waterproof to a high standard and great value. Moving up, Lezyne's Micro Drive 600XL / Strip Drive Light Set offers the same 600 lumens at the front but a massive 150 lumens at the rear!
If you want to hit the road with most tech possible, then Exposure and their Sirius MK9 & TraceR MK2 Light Set is the way to go. It might be over £100, but what you get is a brilliant light set crammed with tech to keep you safe.
Dropping in at night
For hitting the MTB trails at night, the demands are a lot different. Unless you're linking sections with short stints on the road, a rear light isn't really needed, so you can instead focus on your vision going forward. You want a bright light with a wide, powerful beam that will help you spot roots, rocks, jumps and drops. While a handlebar light on its own will do the job, we recommend having a powerful bar light combined with a less powerful helmet light to help you see the trail in full high definition.
For a bar light, look for something with at least 1500 lumens and for helmet lights, anything over 750 lumens will do the job. Depending on how long you want to be out for you'll need to keep a close on the burn times in the most powerful modes too; while a light can produce enough power, if it can only do it for an hour and you plan to be out for a couple of hours or more you could be left in the dark, literally!
When it comes to bar lights, we're big fans of models from Lezyne and Exposure, their cable free design and simple operation makes them easy to use, so while you may get similar results from lights with an external battery pack, an all in one unit is a much cleaner solution. Lezyne's Super Drive 1600 XXL is a great choice, with up to 1600 lumens for close to 2 hours, you'll have plenty of juice and power to shred the trails for a few hours.
When it comes to MTB lights, for us nobody beats Exposure Lights. With incredible made in the UK quality, a clean, cable free design, incredible brightness levels and insanely long burn times, nothing really gets close and while they aren't inexpensive, they'll reward you with years and years of faithful service. We still have some of their early models in our collection, some are over decade old! We particular love the Joystick and Diablo helmet lights as their tiny size makes them super versatile off the bike, while the SixPack is the king of all cycle lights, with a crazy 5000 lumen output and incredibly long burn time, we'll be using SixPacks to warm the earth if the sun ever goes out!