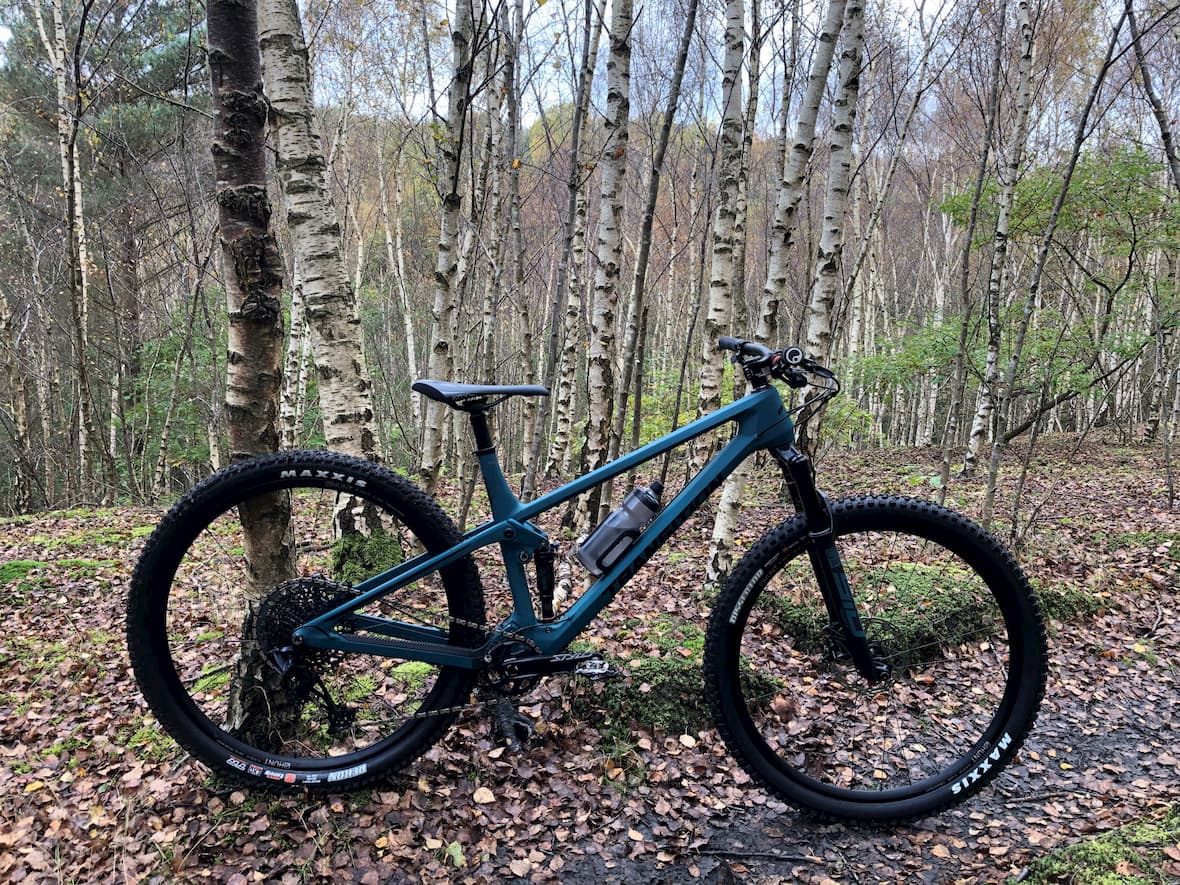 Even before the bike industry went crazy earlier in the year, Transition Bikes were on a roll. The Patrol has been a massive success, and the new Scout and Sentinel were basically sold out before their release. Then in June, we got wind of an all-new bike. The Spur. A lightweight, 120mm travel, 29-inch wheels "all-country" bike, designed to be ridden hard all-day long but do it in a real Transition Party in the Woods style..
I was the last of the Tweeks Team to take the plunge on a Transition (yep, little spoiler alert there); rad as their other bikes are, I prefer a shorter travel, lighter bike, with even their previous Smuggler being a little on the chunky side for me. But the Spur drew me in. Short travel? Check! Lightweight? Damn right it's light. Like almost cross-country race light, with builds starting at just 11.2kg for the range topping XX1 AXS model. It weighs so little despite it's chunky 2.4 Maxxis tyres with tough EXO casing. Despite it's long travel dropper. Despite the fact the geometry is more aggressive than full-on Enduro race bikes of just a few years ago…
The Spur has created a stir then. Let's get the geeky geometry numbers part out of the way first. The Spur takes on Transition's signature SBG geometry, based around a long reach, steep seat tube angle, slack head angle and reduced offset fork. This means a long 480mm reach in a size Large as tested, 66-degree head angle and a 76-degree seat tube angle. These work with a short seat tube for a longer dropper post (the Large comes with a 180mm as standard) and short-ish 435mm chainstays. That's some aggressive numbers, with some enduro bikes still in the same ballpark, despite being designed for much burlier riding.
All Spurs are based around the same full carbon frame and new Rockshox Sid fork and SidLuxe shock, giving 120mm travel front and rear. The Spur differs from other bikes in Transitions range as it forgoes a pivot on the chainstay and uses an engineered flex pivot on the seatstay instead. This helps to save weight and reduce maintenance, both of which are things I'm a fan of.
Transition are based in the Pacific North West, which means their bikes are built to withstand some pretty awful conditions, much like here in the UK. With easy maintenance in mind, the Spur has a threaded bottom bracket as well as fully sleeved internal cable routing; just pop the cable in one end and it pops right out the other end. The rear brake line is externally routed for quick, bleed-free changes as well. Transition top it all off with some of the nicest integrated frame protection around.
Safe to say then we were buzzing to see how that intoxicating mix of lightweight and aggressive geometry rode out on the trails. We've had limited time on the Spur, mainly due the pandemic, lockdowns and ensuing supply chaos, but after a bit of waiting, we've finally been able to swing a leg over the Spur and see what the fuss was all about. We've had a few short rides on the GX build bike, so this is more a first impression than a full-on review.
The Ride - Climbing
Damn is this bike fast. Like crazy, goes at the slightest twitch of a leg muscle fast. The first thing you notice is just how light it is, with even the GX build coming in at 12.2kg before adding pedals. Go for a similar bike from another boutique brand and you'll be looking at the best of a kg heavier. Anyone coming off a 14kg or more enduro bike will be shocked at how easy climbs are on the Spur. The Maxxis tyres roll super well too despite their size and the 29-inch wheels help you maintain that speed all the way up the climb.
The Spur climbs like a rocket, with barely any pedal bob, even with 30% sag. Add in the light build and we've found our PRs on climbs smashed by the Spur, and by a good margin too. Technical climbs are topped with ease. I'm the sad kind of rider who counts their dabs on climbs, I'll go back and session a tech section until I get it and the Spur handled everything I threw at it despite the greasy autumnal conditions. So yeah, it climbs pretty dang well!
#droppingin – the descents
Anyone who felt the weight of the Spur knew it would climb well, but with a Sid fork, tiny SidLuxe shock, would it handle the singletrack and descents as well? It sure as hell does. In style too. The Spur has blown me away; the fork and shock have a plush, supple feel and plenty of support to push into, but the frame is the star of the show here. The Spur just craves speed and delivers an agile, nimble ride yet still has the stability at speed over rough terrain that lets you get off the brakes and let the bike run. I've not ridden anything this side of an enduro bike that feels this confident on descents. It has a calmness from the carbon frame, fork and shock that belay their lightweight, but it still has the stiffness to throw it into a corner hard and not feel an undue amount of flex. The bike just finds traction and holds a line beautifully.
The Spurs components play a big part in its descending prowess, with a big 800mm bar, short 50mm stem and those grippy 2.4 Maxxis tyres. The 180mm OneUp Components dropper post is a godsend too; too many brands spec short droppers on their bikes and it really holds them back. Props to Transition for not being afraid to go outside what you'd expect to find on a 120mm bike. If anything, the Spur carries its speed so well you can overwhelm the 160mm rear rotor on steeper descents, but that's hardly a major flaw. Simply put, the Spur rips and is by far and away one of the fastest, most fun bikes I've ridden and shows that you don't need a big, heavy enduro bike for the majority of trails we have here in the UK.
It's good then?
The Spur shreds. So many riders will love this bike, from washed up XC racers who want a more fun trail bike, right through to DH guys and girls that want a bike to pedal on all day and everyone in between. I loved the Spur so much I sold my own bike and bought one! It's still early days, but for me the Spur is everything a mountain bike should be, it's fast, fun, easy to live with and can be ridden on a wide range of trails; forget a marketing tagline, it's not enduro, it's not even down-country, it's just an awesome bike to get some big miles on with an even bigger smile on your face.