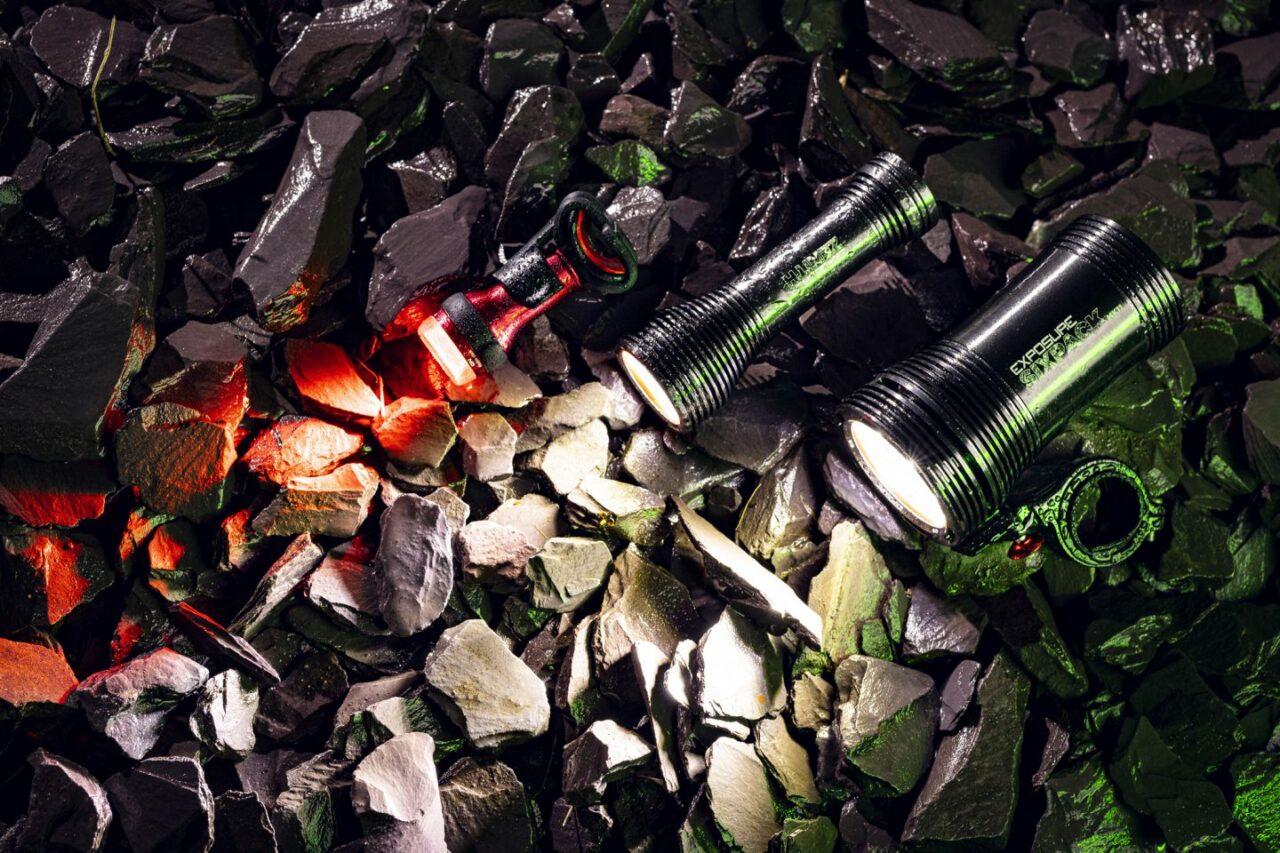 Whether you're a mountain bike trails specialist or clock up your competitive cycling miles on the road, an essential part of any night rider's kit is a set of high quality, ultra-reliable lights.
But when it comes to winter bike lighting the needs of MTB and road cyclists differ as much as the types of terrain they cover.
Here, Tweeks Cycling specialist Tom Law examines how British brand Exposure Lights uses cutting-edge technology to meet the needs of on and off-road riders wishing to test themselves after dark.
All cycle lights in the Exposure range use built-in batteries, which means you don't have to worry about wires or cables. This avoids the problem of having to route cables around the stem and top tube while also trying to secure a battery pack that no matter where it's mounted will inevitably end up swinging around and coming into contact with a rider's legs.
Tom explains: "Exposure's all-in-one design is probably unique. I find it so much easier to not have to mess around with cables and battery packs when out riding. What's more, when it comes to trail riding the plastic connectors that are used to secure cables to a bike frame can rattle around, which I find really distracting.
"The cable-free design means you're good to go straight after chucking the light on your bike or helmet."
The best lights for mountain bikers
If you're hitting the trails it's all about seeing where you're going and lumens are the name of the game.
With any light for off-road use, the brighter the better. That means at least 2000 lumens for a handlebar light and a helmet light of 700-900 lumens. This might sound like overkill, but even familiar trails feel different at night and you don't want to get caught by a sniper root or tree stumps that seem to be love pedals.
To put this lumen level into perspective, a typical 60 Watt domestic lightbulb emits about 800 lumens, while a car's headlights on full beam have a brightness of about 1200 lumens each.
Tom further explains: "When considering a handlebar light for negotiating trails on a mountain bike, the spread of the beam created by the lens is also extremely important because that is what gives MTB riders the greatest visual help.
"The number of LEDs in a handlebar light can increase the spread of a light's beam as can the lens profile.
Exposure's top-of-the-range handlebar light — the SixPack Mk11 — has an output of 5000 lumens, weighs in at just 386g and the lithium-ion battery gives a run time of up to 36 hours.
It's impressive list of features includes no less than six CREE LEDs, while the menu at the back — which is operated via Exposure's Optimised Mode Selector tool — offers a choice of run times and modes so it's easy to find the right one for their ride, be that an all-night adventure or an intense blast.
The ace up the sleeve of this impressive piece of winter night riding kit is what Exposure calls Reflex+ Technology, an addition that allows the light to adapt to the trail conditions. If you're descending, for example, the light will get brighter but if you're climbing it will dim itself back to reduce battery use.
Another feature designed to preserve the light's battery life is an auto-dim mode that comes into operation during prolonged periods of inactivity and immediately returns to normal brightness when movement is detected.
Meanwhile, Exposure's SmartPort Technology allows compatible units to recognise accessories, allowing riders to power additional lights or other USB accessories from the SixPack unit.
While not all products in Exposure's handlebar range of lights offer brightness levels of up to 5000 lumens, they do incorporate the brand's SmartPort Technology, are as easy to use as the SixPack (a single button on the back of the unit takes care of switching it on or off) and have a durability rating that is second to none.
How to choose an off-road helmet light
When it comes to riding trails after dark, two lights are always better than one.
This is why a helmet light is a wise winter investment. In fact, having a helmet light that is pointing in the direction of exactly where you are looking can be a life-saver because it will pick up low-hanging vegetation and nocturnal animal life.
Tom adds: "In trail riding, you want a nice wide beam from your handlebar-mounted light so you have the ability to see anywhere you want but the more focused beam of a helmet light is going to identify specific objects, such as the apex of a corner or the next rock or branch in your path."
Top of Exposure's range when it comes to helmet lights for off-road use is the Zenith model.
With a brightness rating of up to 2000 lumens, three CREE LEDs, and an impressively long battery life when combined with TAP — a rapid mode change function that allows wearers to quickly switch between modes by tapping either the body of the light or the helmet without needing to locate a button.
Like the Zenith, other models in Exposure's off-road helmet range, including the Diablo, Axis and Joystick, come with a helmet mount and incorporate the brand's OMS tool, SmartPort Technology and superior build quality and durability.
Road bike lights that will last for years
When riding on the road after dark, the greatest concern for cyclists is being seen by other road users. This is why the maximum brightness we recommend for front-mounted road light units is around 1000 lumens, while rear lights only need a rating of 20-100 lumens.
The go-to product in the Exposure's rear light range is the ultra high-tech Blaze MK3 with the brand's ReAKT and Peloton technologies built in.
Not only does this rear light offer a brightness level of 80 lumens and an extra-long battery life, the ReAKT technology uses ambient light sensors to constantly adapt the output.
This means Exposure claims the light is visible from up to 1km away, while Peloton mode enables ambient light sensors in the lens to register when a front light of a rider is behind and trigger the light to dim down.
Aside from offering high quality and extremely durable rear illumination, Exposure's road light range differs from its MTB lighting products in the design of the lenses.
As Tom explains: "On road bike lights the lens wraps around the side of the unit, which allows light to not only illuminate in a forward direction but also to the side. This is a great safety aid because if a rider is navigating a roundabout and a car is coming towards them from the other way the vehicle driver isn't seeing the bike's light because they are not approaching from head-on."
Exposure's top of the range handlebar-mounted light for road cycling is the Strada MK10 Super Bright. This model is rated at 1500 lumens and comes with a road spec beam pattern and bevels to allow side illumination.
The remote switch keeps users in total control by allowing them to activate the in-built OMS without taking their hands off the bars, but the key advantage of this model is Exposure's Activ system that automatically dips the beam if it senses another light source.
The final word on winter cycle lights
Tom advises: "When purchasing any cycle light, set yourself a budget and buy the best you can afford."
"I've had my Exposure lights for four years and they are as good now as the day I bought them," he adds. "Exposure Lights might cost four times the price of something you can buy from a website based in, say, the Far East but purchasers get that peace of mind that you know they are going to work and remain working for years to come.
"It's also nice to deal with a brand that's based in the UK because in the unlikely event of anything going wrong with their products it's easily sorted. Exposure is noted for telling the owners of its lighting products to send back any faulty equipment and they will repair it for a nominal fee — even lights that are, perhaps, 10 years old."
For further details of Exposure Lighting's wide range of cycle lights, including the brand's cable-free design, high levels of performance and hard to beat durability, get in touch with Tweeks Cycles.
Tom Law is a marketing co-ordinator at Tweeks Cycles. He's fully immersed himself in the world of cycling for more than 15 years and loves nothing more than taking his Transition Spur around woods and mountains, although he's no stranger to drop handlebars and tarmac.