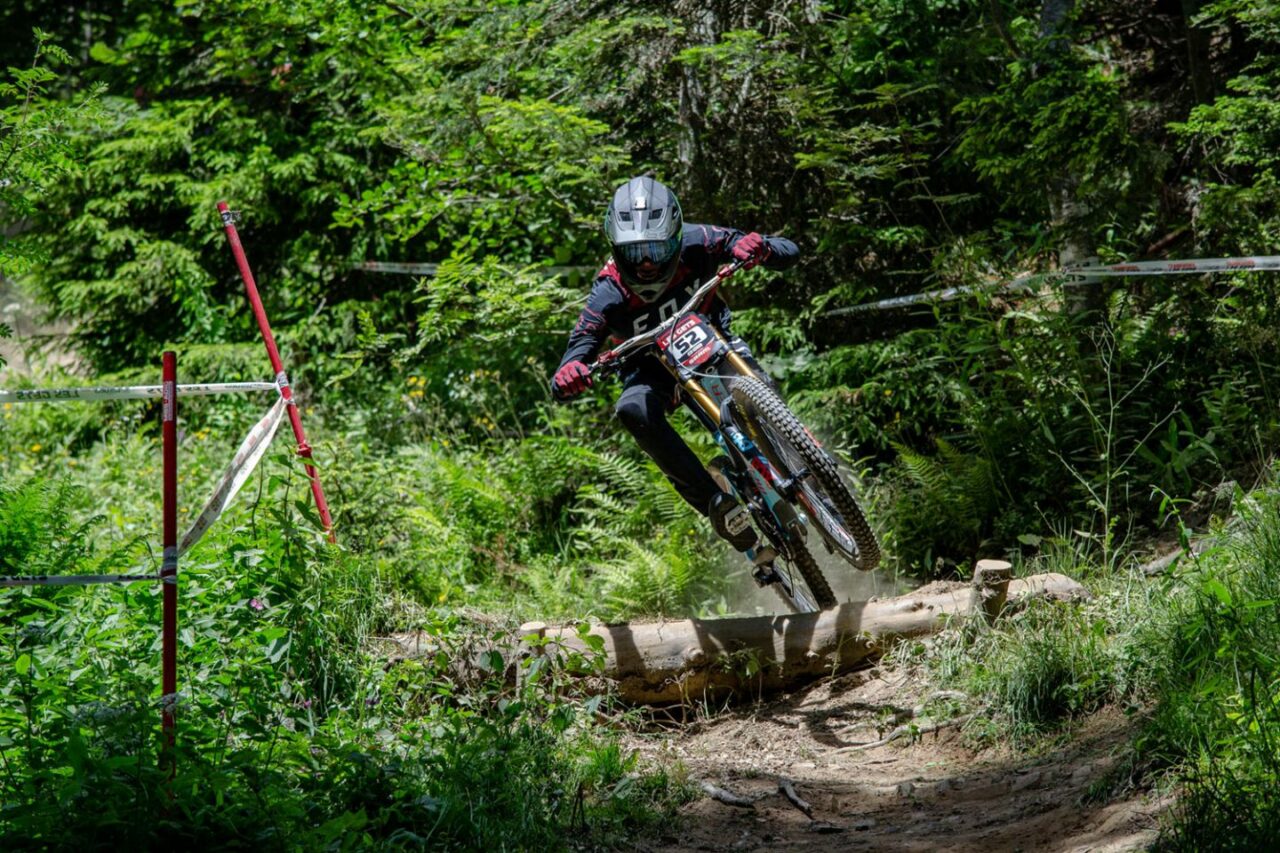 Les Gets in the heart of the Alps has been a bucket-list
destination for mountain bikers for decades; and with thousands of miles of
epic and varied trails, stunning scenery along with events like Crankworx now
part of the yearly calendar, it's easy to see why!
What has been missing from Les Gets schedule for the last
17 years is a UCI-sanctioned World Cup Mountain Bike event. It may have held
the World Championships in 2004, but after being a regular fixture on the World
Cup circuit since it started in the early 90's, Les Gets dropped off the
calendar after the 2002 event and has not been back since.
That all changes for 2019, though, with the UCI Mountain
Bike World Cup returning to the legendary slopes with a Cross-Country and
Downhill double header. From the 13th to the 14th July, the world's best
mountain bikers will descend (in some cases literally) on Les Gets for the
first time in nearly two decades. Given the gravity of such a return, we
thought it wise to get ourselves reacquainted with Les Gets and its famous
slopes, as we look ahead to what will surely a weekend full of amazing racing;
as well as taking a look back at some of the most memorable moments from this
historic MTB venue.
A (not so) brief history
Les Gets has held five previous UCI World Cup events and
one edition of the World Championships. After starting out as a round of the
French Cup MTB Series, the resort held its first UCI Mountain Bike World Cup in
1996, with a double header of Downhill and Cross-Country events just like it
will in 2019. Winners over that weekend included then house-hold names including
Nicolas Vouilloz and Ann-Caroline Chausson in Downhill, while Bart Brentjens
and Daniela Gassman wrapped up the Cross-Country wins.
After missing the 1997 season at UCI World Cup level, Les Gets returned in 1998 and stayed on the calendar until 2000 with Downhill and Dual Slalom or Four Cross events. 1999 saw Britain's Steve Peat take the first of his two wins in Les Gets, as he narrowly missed out on the Overall Series Win in a close battle with Vouilloz. Peat would take another win in Les Gets three years later, in 2002, securing his first Overall Series win in the process and putting behind him the disappointment of missing out on his first World Championship title in Kaprun, Austria just weeks previously.
Les Gets will forever be remembered in Downhill history,
however, for the events of the World Championships in 2004. After years of
trying, it looked like the stars were aligning for Peat to claim his maiden
World Title. He'd dominated the World Cup Series all year, had qualified
fastest at the World Championships and was in the form of his life. All through
his Finals run, our man Peat was in the lead – two seconds to the good over
Frenchman Fabien Barel. Finally, everyone thought, Peat would wear the Rainbow
jersey he so richly deserved. But it wasn't to be. Mere seconds from the finish
line, a wash out on a loose corner took him down, robbing him off the title
that had eluded him for years. It would take another 7 years before he finally
got to the wear the prized Rainbow-striped jersey.
Going back to the Future
For 2019 Les Gets returns to its roots with Downhill and
Cross-Country events covered over the two days. The Men's, Women's and Junior
Downhill events take place on the Saturday followed by the Cross-Country on
Sunday. The courses are expected to typically alpine in their style with wide
open, super-fast, off-camber sections joined together with steeper, tighter and
slower sections through the trees littered with the infamous Les Gets tree
roots. The courses will be a real test of a rider's skills and will require
perfect race runs and supreme racing tactics in order to take the wins.
The 2019 UCI Downhill Mountain Bike season has been a
corker so far, with fast-racing and plenty of drama. The once dominant Aaron
Gwin has been decidedly off-form after an injury-hit preseason and is now out
with a shoulder injury, leaving the top spot open for any number of riders to
take. Loic Bruni took the win in the opening round in Maribor, Slovenia, before
last year's overall series winner Amaury Pierron took back to back wins in Fort
William, Scotland. Bruni has won the last two rounds in Leogang, Austria and
Vallnord, Andorra and will surely be looking to make it four wins out of five
this season. He won't have it easy though, with the likes of Pierron, Troy
Brosnan, Danny Hart, team-mate Finn Iles and the legend that is Greg Minnaar
all looking to claim a win. Don't count out fellow French rider Loris Vergier
either!
In the women's series, the first four rounds have
produced three different winners, with Tahnee Seagrave and Tracey Hannah taking
a win apiece, while Rachel Atherton has taken two wins. Poor Tahnee is out for the
foreseeable future with a serious injury and with Miriam Nicole also out with
injury, it's down to the likes of Nina Hoffmann and Marine Cabirou to take the
challenge to Atherton and Hannah.
In the Cross-Country series, Nino Schurter finally earned
his first win of the season in Andorra, and with Mathias Flueckiger and the
versatile Mathieu Van Der Poel taking a win apiece, the established order has
been well and truly shaken up!
The women's series has been dominated by Kate Courtney, who has taken two wins so far, proving that her surprise win in last year's World Championships was no fluke. Anna Terpstra took a surprise win last time out in Andorra and along with Sina Frei, Jolanda Neff, Haley Smith and Rebecca Mcconnell, a host of riders have all looked like they have they have the form to challenge Courtney. We can sure that Les Gets will be another round to watch!
With a whole host of mountain bike action over the
weekend to keep us entertained, it's great to see Les Gets back on the map of
the UCI Mountain Bike World Cup. We can't wait to see who will stand on the top
step of the podium!