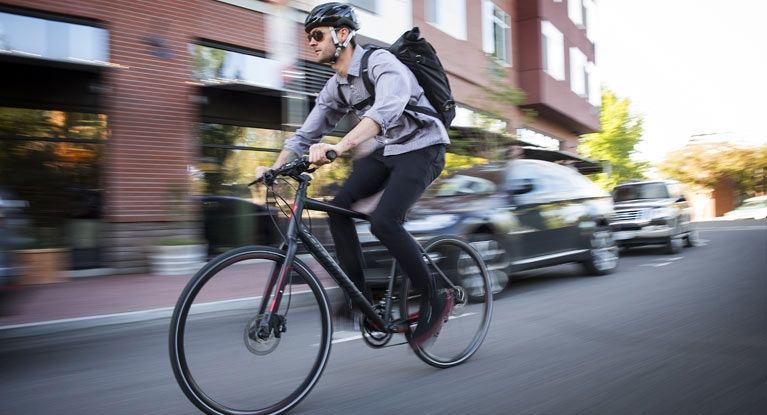 With the sun starting to come out commuter bikes are starting to awaken from their winter hibernation. All over the UK there are cyclists who are starting to dust off the frames, inflate their tyres and check on the condition of their brakes & drivetrains ready for a summer of cycling.
Of course, what this also means is that people are
starting to think about leaving the car at home or saving money on their bus,
train or tram fares by cycling to work – an idea made more feasible in recent
years thanks to the Cycle 2 Work Scheme.
Rather than riding into work on the bike they've owned for years, or their
favourite weekend road or mountain bike they don't want to risk losing when
they chain it up outside, the Cycle 2 Work scheme has made it easier than ever
to buy a new bike, with savings of at least 32% on the cost of the bike and any
safety accessories.
What is the Cycle 2 Work scheme, and how does it work?
Introduced by the UK government in 1999 in an attempt to get more people cycling instead of driving or using public transport to get to their places of work, the Cycle 2 Work scheme makes it possible for everyone to buy a new bike (or two bikes, if you wish) and safety accessories including a cycle helmet, lights, bike locks and reflective clothing.
The scheme works through salary sacrifice which, if
you're not aware, is a process whereby the repayments are deducted from your
salary just like tax. It allows you to buy a brand new mountain, road or hybrid
bike by spreading the cost – usually over a year but up to 18 months – saving
between 32% and 42% on your tax contributions depending on your tax band.
The offer does not extend to all accessories, however,
with items like GoPro cameras, turbo
trainers and GPS cycle computers not available on the Cycle 2 Work
scheme.
All you have to do is inform your employer of your wish
to get involved in the scheme, and they will provide you with all you need to
know and do (which is broken down on the Tweeks Cycles Cycle
2 Work page). Once you've looked at the details you can start the
fun part of choosing which bike you'd like, along with any safety accessories.
From that point onwards it's just a case of filling out a
form including the details (colour and sizes) of what you're wishing to
purchase, then your employer will finalise the details and place the order on
your behalf. At the end of the agreement you'll own the bike, and the
accessories.
Am I eligible for the Cycle 2 Work Scheme?
Yes! Employees working in all public, private and third
sector organisations signed up to the Cycle 2 Work scheme are automatically
eligible, with the cost of the bike and any accessories automatically taken
from your monthly pay as a form of salary sacrifice (like many company pension
schemes).
The benefits of cycling to work
When you think about it, there are a lot of benefits of cycling to work meaning the Cycle 2 Work scheme makes a lot of sense. Firstly, there are the benefits to the environment of getting one more car off the road which means less pollution – and less traffic, too. (You might even find it's quicker than taking the car!)
There are the then the financial benefits of cycling to
work as you don't have to worry about putting fuel in the car or paying to
park.
Finally, there are the more obvious physical and health
benefits of cycling. Riding to work will help you to get physically fitter and
healthier, helping you to lose weight and improve your cardiovascular fitness;
as well as helping to reduce the
effects of stress and anxiety.
Top mountain bikes available on the Cycle 2 Work Scheme
Just because it's called the Cycle 2 Work scheme, it
doesn't mean you're restricted to a road or hybrid bike. A lot of modern
mountain bikes, while made to be ridden off-road, are just as comfortable on
the flat stuff but can still be fun out on the trails, including these three
gems:
The best road & gravel bikes available on the Cycle 2 Work Scheme
Road bikes have a long way since the start of the Cycle 2
Work scheme. Today's road bikes are lighter, faster and more practical meaning
riders can get on in the morning and get off for a coffee three hours later fresh
as a daisy. Of course, you're probably looking to buy a road bike you can
commute on, but there's no reason you couldn't use any of these as your weekend
road bike, too:
Our favourite hybrid bikes available on the Cycle 2 Work Scheme
Can't decide if you want a road bike or a mountain bike?
Simple, opt for a hybrid bike and you'll get a versatile blend of both! Offering
excellent comfort across a range of surfaces, these hybrid bikes are available
as part of the Cycle 2 Work scheme and offer something for riders of all
abilities:
The best electric bikes available on the Cycle 2 Work Scheme
Electric bikes are becoming ever more popular and with the £1000 limit no longer in place with a lot of Cycle 2 Work scheme providers, the electric world is your oyster! From electric hybrids to make you commute or leisure rides easier through to down trail smashing full suspension electric mountain bikes, you can now truly electrify your ride wherever and whatever you ride!
---
Enjoyed this? Read more of our latest news:
Where To Next?
Whether local or from further afield, why not visit us at our store and workshop in Wrexham, North Wales? Pop in to get your bike serviced by one of our expert cycling mechanics or treat yourself to the very latest clothing and accessories all under one roof.
Interested in everything we do? Catch up on all the latest Tweeks Cycles news.