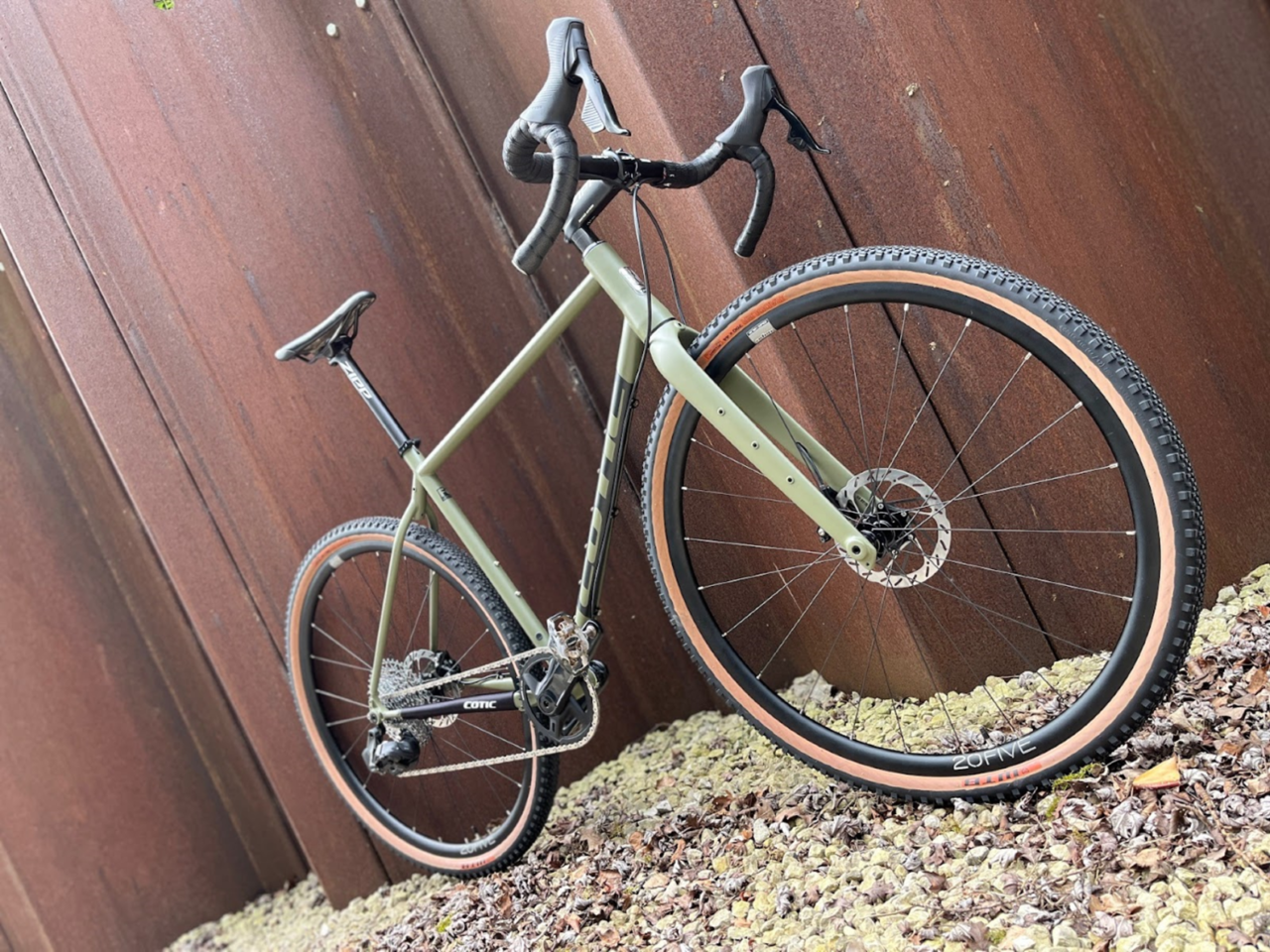 What do you do if you want to buy a new bike in a world where there is a bike-shortage? You build one of course! Ahhh, but there's a parts shortage too… With some creative searching and extra patience it is still possible and the results speak for themselves. A truly unique dream build which you can really call your own. 
Our bike guru Tom was looking for his first proper gravel bike to hit his commute and weekend exploration adventures (on something a little more suitable than his Transition Spur). With gravel bikes THE bike to have at the moment and supply issues still biting hard, sourcing one proved easier said than done! Tom's no stranger to a custom build (by his reckoning, this latest creation is his 6th!) and he pulled out all the stops to build this stunning Cotic Escapade!
Over to Tom to talk us through the project…
---
The starting point and beating heart of any custom build is the frame. Choosing a frame was pretty easy, as I knew I wanted the longevity and trademark supple ride that steel provides. #steelisreal
The Frame
Having owned numerous Cotic frames previously and liking to support UK brands, the Escapade was an obvious choice. The design was updated in 2022 with wider tyre clearance and bosses on the fork for luggage which makes it super versatile and can be built up in a number of ways for a wide range of riding. Want a fast and comfortable all-road bike? Stick some 700c wheels with wide slicks and you're good. Want to go bike packing? Some smaller 650b hoops and wider, knobbier tyres are just the ticket! I was torn on the frame colour, a choice of matte green or blue, but I'm glad I went for the matte army green; it just suits the look and feel of the bike and makes the tan wall tyres pop a bit more.
The Drivetrain
Now I had a frame and fork, the really fun part was choosing the components to drape over it. First up, and possibly most important; the drivetrain. The Escapade is super versatile, so I wanted something that gave me all the gear range I needed for the road and commuting while also being able to winch up steep fire road trails. The Escapade can be setup as 1x or 2x and either mechanical or electronic, so I had plenty of choice! Being a big fan of the GX Eagle AXS on my Spur, SRAM's newest Rival eTap AXS XPLR seemed the logical direction to go in. The wireless derailleurs and shifters give a super clean look and the 10-44T cassette teamed with a 40T gives me all the range I'll hopefully ever need. If I need a little more range for tougher climbs, it's easy for me to pinch the GX AXS derailleur and cassette off my Spur too with minimal faff. Wireless is the future folks, you heard it hear first! The Rival hydraulic brakes also give plenty of power too, further amped up by using their HS2 MTB rotors.
Wheels and Tyres
Wheels and tyres took a little more consideration... I wanted something reliable, tubeless, easy to live with but light and fast enough to use on the road (while still having enough grip and durability to use on gravel and light-MTB trails). Just a small list of requirements then! Not only that, but I also had to weigh up whether to go for 650b wheels and higher volume tyres or go for traditional 700c wheels and slightly smaller rubber. In the end I went for the 700c option - more for speed on the road and I won't be loading the bike too heavily with gear (which is where I think 650b makes more sense).
I've always been a fan of Hope hubs and their 20Five wheels lace their proven RS4 hubs to lightweight but tough tubeless-ready rims that can easily take a tyre over 40mm wide. Perfect! For rubber, WTB have been knocking it out of the park with their gravel tyres, so I went with their 44mm Raddler, which hopefully will offer a good compromise between speed on the road and decent grip off the beaten path.
Finishing Touches
Now it was time for the finishing touches and having always liked the look and feel of their contact points, I went with Zipp's Service Course range. The XPLR bar has a slight flare to the drops and at 46cm wide is the perfect width for me; it gives enough width for control off-road but still feels compact enough on the road too. The Service Course stem and seatpost are nicely finished and give the bike a real straight out of the factory aesthetic. It also pleases my OCD which compels my cockpit to all be from one brand! The final parts were my beloved Ergon SM Enduro saddle, some fresh Lizard Skins DSP 2.5mm tape and my trusty Shimano XT pedals (still going strong after 10 years of abuse!). I'm chuffed with the result; the bike rides beautifully over broken terrain and feels way more comfortable than anything this side of a mountain bike should off-road, yet it can still chase down the lycra crowd on the road too. To top it all off, it looks amazing in my eyes too! 
If you've got a dream build in mind, check out our full range of components online now and make it a reality!
---
Enjoyed this? Read more of our latest news:
Where To Next?
Looking for the latest in all things cycling, running, fitness and more? Check out our wide range from top brands.
Come and visit us at our store, showroom in Wrexham.
Interested in everything we do? Catch up on all the latest Tweeks Cycles.