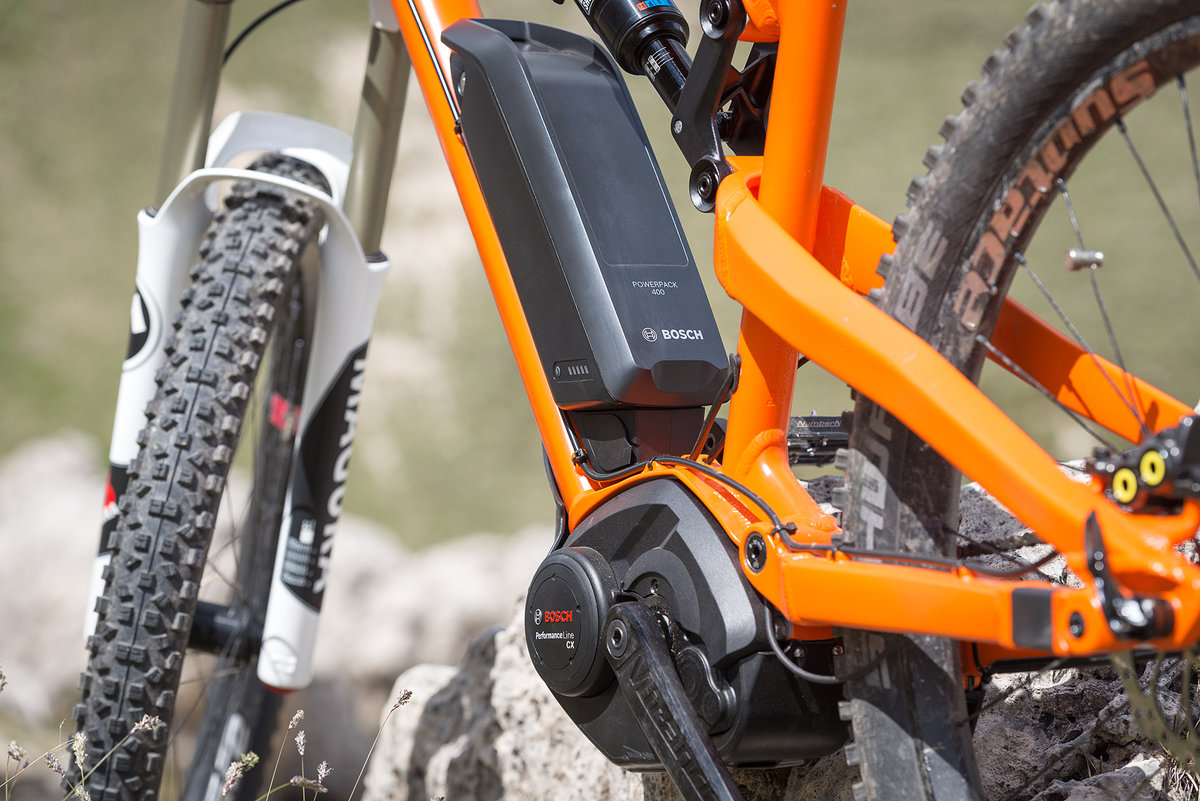 Electric
bikes. Always a topical subject this one! Love them or hate them, electric
bikes here to stay. There's a time and a place to discuss the implications
electric bikes might have on various access and legal issues, but putting that
can of worms aside, there is no denying they enable more and more people to get
out on bikes and enjoying the outdoors. Which, after all, is what bikes are all
about! But what are they and who are they for? We take a detailed look at what
they are, why you might want one, answer some key questions you may have and
highlight our recommendations to help you buy your first electric bike.
Electric
bikes are
not, as the name suggests and as many believe, fully electric bicycles where
you just press a button or twist a throttle and point it where you want to go.
They are instead a hybrid
or mountain
bike designed specifically with an electric battery and motor that
gives you a little bit extra assistance – ideal for anyone who wants to get out
and ride but needs a helping hand along the way.
There are a
whole range of reasons why you might want a helping of electrical pedal
assistant to help whisk you along. This could be down to health issues, age or
just the terrain around you making it a nightmare for you to get a decent ride
in without having to get off and push uphill. You might even be a novice riding
with a group of more experienced riders who have a much higher level of fitness
and you just want to keep up!
Electric
bikes are even popular among seasoned cyclists; the thought of speeding uphill
rather than grinding away or riding your loop twice sure is appealing to many.
Essentially, an electric bike is perfect for anyone wanting to rack up some
miles and smiles on two wheels – but with a little assistance to help them
along the way.
So now we've identified what an electric bike is, and who
it can benefit, let's take a moment to highlight some of
our most frequently asked questions, some key things to look out for and
introduce you to our top electric bikes.
How much charge do you get on an electric bike battery?
Is the battery that powers your electric bike the cycling
equivalent of a modern iPhone, or a classic Nokia from the 1990s? Essentially,
the question we're asking here is does an electric bike battery go flat in
around an hour – leaving you stranded – or do you actually get some decent
range on a full charge? Well, much like your car, it depends on where you ride,
how big the battery on your bike is and how you use your electric bike.
Electric bikes come in a whole range of different styles
and specifications don't forget. Some models have larger capacity batteries
that last longer, just having a bigger fuel tank in your car. Many electric
bikes have a selection of modes to choose between. Bosch motors for example,
feature 5 modes; Off, Eco, Tour, Sport and Turbo. Using the more powerful modes
will drain the battery quicker. Likewise, the terrain you ride and the type of
bike you're using makes a big difference to how much range you'll get from the
battery.
On a gentle, casual ride along the canal or through town
on a hybrid bike using only a light level of assistance, you would expect to
get anywhere between 60 and 100-miles on a fully-charged battery. A heavy-duty
mountain bike being ridden across varied terrain in the most powerful mode of
assistance is going to drain its battery considerably quicker and the range
will suffer as a result. With this level of variation in mind, Bosch have
developed an online Range Assistant (https://www.bosch-ebike.com/en/service/range-assistant/),
to help you get an idea of the range you can expect from your bike. Pretty
clever, eh!
Can I increase the life and range of an ebike battery?
Like anything battery-powered, it pays to look after your
electric bike's battery. There are a few things to be aware of when charging
your electric bike battery, and also a few things you can do to extend its life.
The best thing you can do when charging the battery is to ensure that you're
not doing it in extreme temperatures (too hot, or too cold). Anything below
freezing, for example, can lead to the charger
failing to provide enough (or any) power and it can actually harm the battery.
As mentioned before, you can also increase the range of
your battery by using it sensibly. If you're out for a gentle ride you can
cruise along in a less powerful mode, or if riding off-road you can save the
most powerful modes for when you really need it on a steep climb or your legs
feel like they're about to burst. Just remember, the more you use the battery
and the harder you make it work, the faster the power supply will run out. You
can of course, ride an electric bike with battery turned off, but with most
weighing 20+kg at least, they become a bit of a chore to lug around and we
don't advise doing this for long!
Another top tip is to check the tyre pressures before
riding as you might find the reason you're struggling to get the range you
expect from the battery. Increasing drag is a sure-fire way to drain the
battery quicker. Likewise, heavily treaded tyres are great for riding off-road
when you need loads of grip on loose terrain but are just going to slow you
down and drain the battery if you only ride on hard pack surfaces or roads.
How do you charge an electric bike?
Charging an electric bike is a fairly simple and
straightforward process, with just a charger and a socket required. Many
electric bikes even let you remove the battery from the frame, so you don't
have to drag your mucky bike into the house! The charger itself plugs into the
wall socket just like your mobile phone or car battery charger. That's it
really, no expensive investments in specialist chargers.
Best of all, all of our electric bikes get a fully
charged battery to start with meaning you can get out and right rather than
sitting there waiting for it charge as the good weather disappears!
The best electric mountain bikes
Getting off road appeals to thousands of cyclists. As a
beginner, it can also be a daunting prospect if you don't know how you're going
to battle through the muddy ground, loose terrain and obstacles. Or you could
be an experienced rider looking for something a little different to the norm
and see what all the fuss is about. To help you pick out an electric mountain
bike, here are some of our current favourites:
Cube
Acid Hybrid One 400 Hardtail e-Bike. This
an entry-level electric bike meaning is great for starting your off-road
ebiking experience. With a fantastic
specification for the money, this electric hardtail mountain bike will let you
build up your confidence in no time, while the Bosch Performance Line motor has
multiple power settings to allow you to choose the one that assists you best at
the time. The 400Wh battery will give you a great range as well!
Scott
Spark eRide 930 Full Suspension e-Bike. A smooth and comfortable full
suspension electric mountain bike complete with a powerful Shimano Steps motor
and all the mod cons a mountain biker needs. A more advanced version of
entry-level electric bikes like the Cube Acid, the Spark is still ideal for a
relative newcomer to the world of off-road cycling. The Rockshox and X-Fusion
suspension helps to smooth the bumps while the Shimano hydraulic disc brakes
ensure you've got the stopping power to inspire confidence when descending.
Lapierre
Overvolt AM727i Full Suspension e-Bike. Once you're comfortable with
mountain biking, or if you're a more experienced rider already, the Lapierre
Overvolt is great bike to help you push yourself further and harder. A full-suspension
bike with 27.5-inch tyres and a Shimano STEPS motor with 500Wh battery, the
Overvolts Fox forks and SRAM drivetrain means it's designed to be ridden hard,
all-day long – so that's just what you should!
The best electric hybrid bikes
If you want a versatile bike that is equally happy around
town as it is whisking along bridleways, electric hybrid bikes are perfect for
racking up the miles in comfort. With a number of leading manufacturers
including Cube and Raleigh both investing significantly in their e-bike
offerings, there's never been a better time to get yourself an electric bike!
Here are some of our favourites:
Wisper
705 SE Step-Through e-Bike. A great value-for-money hybrid electric
bike with good range and a comfortable ride position, the Wisper 705 SE is a
great little bike for riding around town and even comes with a rear rack for
storage and a quiet motor meaning you'll hardly know it's on – perfect for
relaxing cycle rides.
Cube
Touring Hybrid 400 e-Bike. With a powerful Bosch motor, integrated
battery, LED lights and a rear pannier rack, the Cube Touring Hybrid 400 is
built for touring meaning it's great for long and relaxing rides. With smooth
power delivery, a practical design and powerful hydraulic disc brakes; it's
perfect for racking up the miles.
Raleigh
Centros Low Step Hub e-Bike. For all the benefits of a
technologically advanced ebike with very little maintenance required, the
Raleigh Centros is a fantastic option. With an integrated Bosch motor and
battery combined with an excellent Shimano Nexus 8-speed hub for smooth
gearing; you can just get on and ride with the minimum amount of fuss.