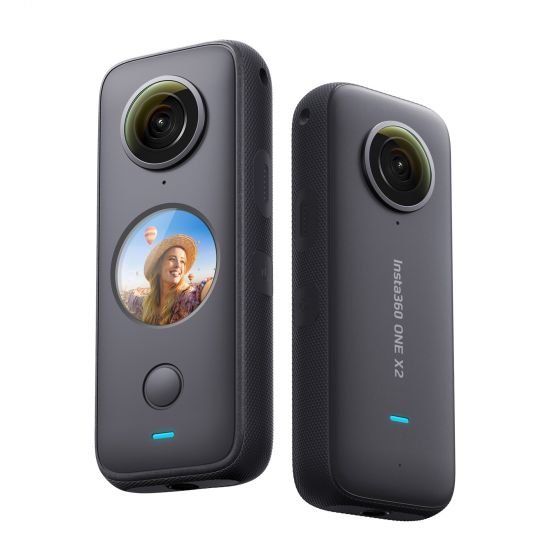 Insta360 ONE X2 Action Camera
Welcome to the world of 360 films. Like having a mini film crew stuffed in your pocket, ready to record every single angle of the action without missing a trick. Unleash your inner creativity and create footage like never before with the Insta360 ONE X2.
5.7K 360o Capture
Ultra-bright touch screen
Voice control
Waterproof to 10m
Outstanding reviews from eight top tech review companies goes to show you that this camera is not your average "want to be" professional camera, this is the real deal, one of the very best when it comes to action cameras.
Features
5.7K 360o Capture lets those of you who wish to capture every single possible view of your favourite moments recorded in ultra-high definition and not miss a memory. The ONE X2 shoots, stabilises, and edits your 360 videos for you to provide you with a crystal-clear view of your favourite moments to see stuff that even you may have missed.
To add to its wealth of abilities, the ONE X2's FlowState Stabilisation offers you buttery smooth goodness which removes shakes and bumps that many action cameras fall foul of. This means that whilst you're shaking it up and piling on the action, your video quality stays super cool ensuring to capture the best of every moment. Steady Cam Mode also allows for single-lens stable capture that records an ultra-stable wide-angle video that's instantly ready to share.
Horizon Lock allows you to not have to focus on holding your camera straight, so you can get on with doing what you do best, even better. This means that while you're busy giving it your all, the horizon levelling algorithms keep your horizon central as your picture moves around, meaning that no matter what you're doing and how the camera moves, your end video will be perfectly straight.
Drones are great if you know how to fly one, or if you're happy carrying around a big bag everywhere. But why get a drone when you can use the ONE X2's invisible selfie stick mode? Capture the best third-person videos in 360 and watch the selfie stick disappear, making a drone pretty useless for your action shots.
Reframe lets you shoot your scene first, then point your camera later. Film everything with ease without focussing on the direction of the camera lens because you can always adjust this later. Keyframe lets your pivot the video through playback allowing you to change your camera's view without filming a scene twice. Deep Track 2.0 lets you focus on a particular object and make that centre of the video, no matter how much it moves. For example, a bouncing football or your dog running. Auto Frame uses AI to pick out key moments in your video and highlights them to add key perspectives in your footage.
HDR Video mode allows you to enhance your footage by pumping up all the colours and enriching your life, because isn't everything better when it's brighter? Just hit HDR mode and record life in all its splendour.
Now, what use is 360 footage without 360 audio? Well worry no more, thanks to the 4-mic 360o Audio, you can get the purest sound from all around, amplifying your voice no matter the angle. Best of all, the smart wind-reduction algorithm means you get the audio you want not the harsh sound of the wind.
Calling all sea lovers, the ONE X2 is IPX8 rated so you can dunk it up to 33ft (10m) of water making it ideal for water sports such as wakeboarding, sailing, diving, swimming, or snorkel free diving. Add to this, the AquaVision AI tech makes your ugly blue haze from underwater shots disappear. Simply hit AquaVision in the app and the true colours of the underwater world will come to life.
Featuring 55% more battery power over the ONE X thanks to a 1630mAh battery that keeps you ready for the unexpected.
Preview, edit, and adjust settings on the ultra-bright touch screen that allows you to swipe and preview your entire 360 video without using your smartphone. Speaking of smart, control your shots with Voice Control, Apple Watch Control, AirPods Connection, and the Insta360 GPS Smart Remote to take photos, and stop and start recording without needing to be holding the camera.
Connect to your ONE X2 to your favourite conferencing platform for a 360-view remote meeting and get everyone involved without having to fight for space in the frame. What about live streaming? Yep, 360 live streaming too. Let your audience explore your live stream using Reframe Live and become a social media legend!
The App
The Insta360 App is like a whole editing room in your pocket, download it for all the control and editing for some of the features mentioned above. For all you social fanatics, it allows you to adjust your filming to suit your feed. Whether you're filming a reel or a post, change the aspect ratio between 16:9, 9:16, and 1:1 to create the perfect video for all your socials.
Shot Lab in the Insta360 app lets you blend videos, make compilations, and edit your footage to create videos that you would think only professionals could make. With features such as Stop Motion Mix, Clone Trail, Fly Lapse, and Flash Dash you can pause, slow down, accelerate, and even merge videos to create your masterpiece of cinematography.
The Multiview function also uses the two lenses by offering an instant split-screen, awesome for vlogging by simply adjusting the field of view settings in the app. This means no more multi-cam rigs, just your pocket-sized ONE X2.
GPS Stats lets you track your speed, altitude, and more via a smartwatch and overlay this data to your video to create a heads-up display like image with your footage for awesome performance tracking. Excellent for the speed demons amongst you.
Fly Through is an awesome FPV drone-like feature that allows you to move through objects, pause recording, relocate, and then carry on again without noticing a change in recording, designed to look like a drone were to be flying through a window for example.
Timeshift allows you to make use of the Hyperlapse feature which super speeds a recording to display longer journeys in no time at all. On the flip side, you can now go super slow-mo thanks to the ONE X2's 100fps recording so you can see the detail in every moment.
Pureshot enhances the dynamic range of your low-light photos by reducing noise and enhancing lighting to give you a true representation of the world you see with your own eyes.
What's In The Box?
In this kit, you get the Insta360 ONE X2, its powerful 1630mAh battery, a USB Type-C charge cable to keep you going, a protective pouch for safekeeping, a quick start guide to help you on your way to becoming a videography legend, and a warranty card just for good measure.
Choosing the Pro Kit gives you the ONE X2 camera kit as listed above plus Insta360's Invisible Selfie Stick, a stylish yet durable carry case, a protective lens cap for quick and safe storage of your camera, and a 64GB memory card to set you well on your way to recording all your favourite moments.
If you opt for the Bike Mounting Kit then you get the ONE X2 camera and a Handlebar Mount that can attach to bar diameters between 22mm and 35mm and reflective mirrors with diameters between 7mm and 16mm. You also get a Helmet Mount that connects via a clip-on base with an adhesive that can be used to attach to a helmet.
Lastly, if you choose the Complete Mounting Kit then you get the two mounts from the Bike Mounting Kit plus an additional Suction Cup Mount which can safely and securely be attached to both the inside and the outside flat surfaces of vehicles or other applications.

Detailed Contents
1x Insta360 ONE X2
1x 1630mAh Battery
1x USB Type-C Charge Cable
1x Protective Pouch
1x QuickStart Guide
1x Warranty Card
1x Invisible Selfie Stick (Pro Kit Only)
1x ONE X2 Case (Pro Kit Only)
1x ONE X2 Lens Cap (Pro Kit Only)
1x 64GB MicroSD Card (Pro Kit Only)
1x Suction Cup Mount (Complete Mounting Kit Only)
1x Handlebar Mount (Complete Mounting Kit and Bike Mounting Kits Only)
1x Helmet Mount (Complete Mounting Kit and Bike Mounting Kits Only)
| | |
| --- | --- |
| Brand | Insta360 |
| MPN | ZICCINOSXX/AK2, ICCINOSXX/A, ZICCINOSXX/AK3, ZICCINOSXX/AK4 |
Aperture
F2.0
35mm Equivalent Focal Length
7.2mm
EV
±4EV
ISO
Auto, 100-3200
WB
Auto, 2700K, 4000K, 5000K, 6500K, 7500K
Photo Resolution
360: 6080x3040 (2:1)
Pano: 4320×1440 (3:1)
Video Resolution
360:
[email protected], 25fps, 24fps
[email protected], 30fps
[email protected]
Wide Angle (Steady Cam Mode):
[email protected], 30fps
[email protected], 30fps
Photo Format
insp (can be exported via mobile app or desktop Studio),
RAW (dng, must be edited on desktop)
Video Format
Steady Cam: MP4
360: INSV
Photo Modes
Standard, HDR, Burst, Interval, Night Shot, PureShot, InstaPano
Video Modes
Standard, HDR, Timelapse, TimeShift, Bullet Time, Steady Cam
Exposure Modes
Photo Shoot
Auto, Manual (Shutter 1/8000s-120s, ISO 100-3200), Shutter Priority (1/8000s-1s), ISO Priority (100-3200), Isolated Exposure
Video Shoot
Auto, Manual (Shutter 1/8000s-1/30s, ISO 100-3200), Shutter Priority (1/8000s-1/30s), ISO Priority (100-3200), Isolated Exposure
Video Coding
H.264, H.265
Video Bitrate
100Mbps
Gyroscope
6-axis gyroscope
Audio
Wind Reduction,
360 Direction Focus
Compatible Devices

iOS devices:
Compatible with iOS mobile devices with chips A11 or above and iOS version 10.0 or above, including iPhone SE 2, iPhone 8, iPhone 8P, iPhone XR, iPhone XS, iPhone XS Max, iPhone X, iPhone 11, iPhone 11 Pro, iPhone 11 Pro Max, iPhone 12, iPhone 12 Pro, iPhone 12 Pro Max, iPhone 12 mini, iPad Air(2020), iPad Pro and newer iPad models.

Android Devices:
Compatible with Android mobile devices that meet the following capabilities, including:
- Android devices with Kirin 980 and above chips, including Huawei Mate 20, P30 or newer models.
- Android devices with Snapdragon 845 and above chips, including Samsung Galaxy S9, Xiaomi Mi 8 or newer models.
- Android devices with Exynos 9810 and above chips, including Samsung Galaxy S9, S9+, Note9 and newer models.

Note:
1. Devices that do not meet the above requirements can possibly still use the app to control the camera, however, performance of some processor-intensive and AI-powered features may be sub-optimal.
2. After testing, phones equipped with Qualcomm SDM765 5G chips have poor hardware decoding capabilities and are not supported for use, such as OPPO Reno 3 5G.
3. The installation of the app requires a mobile phone with a 64-bit system, a 32-bit system does not support the installation of the app.
Bluetooth
BLE 4.2
Wi-Fi
802.11a/b/g/n/ac
USB
Type-C
* Note: This version only supports wired connection to Android devices (via Micro-USB or Type-C). It does not support wired connection to iOS devices. Full wireless support is available for both iOS and Android.
Micro SD Card
UHS-I V30 speed class, exFAT format SD cards with a max storage of 1TB are recommended.
Battery Capacity
1630mAh
Charging Method
Type-C
Charging Time
85 minutes
Use Environment
-4°F to 104°F (-20℃ to 40℃)
Weight
149g (5.25oz)
Dimensions (W x H x D)
4.62 x 11.30 x 2.98 cm (1.82 x 4.45 x 1.17in)
Run Time
[email protected] - 80 minutes
Colour Profiles
Vivid, Standard, LOG
Additional Information
Supported conferencing platforms include but are not limited to Zoom, OBS, Microsoft Teams, BlueJeans and Lifesize.
Supported live streaming platforms include Facebook, YouTube or via an RTMP URL.
Shop now. Pay later with Klarna.
We're excited to announce we have partnered with Klarna to bring you new ways to pay at checkout.
Here's how it works

Step 1
Add products to your cart and select "Klarna" when you check out

Step 2
Enter a few personal details and you'll know instantly if you're approved

Step 3
Klarna will send you an email confirmation and reminders when it's time to pay and you can manage your orders and payments in the Klarna app.
---
Payments Information
Pay in 30 days
Make your purchase today so you can try before you buy. Only pay for what you keep. Pay up to 30 days later. No interest. No fees. No impact to your credit score.
Paying after delivery allows you to try before you buy and is the easiest way to shop online.
Complete the payment in full after purchase at no added cost.
Report returns directly in our app and only pay for the items that you keep.
Not making your payment on time could affect your ability to use Klarna in the future.
Debt collection agencies are used as a last resort
You must be 18+ and a UK resident to be eligible for this credit offer. Pay Later Terms and Conditions
Pay in 3 interest-free instalments
Spread the cost of your purchase into 3 interest-free instalments. The first payment is made at point of purchase, with remaining instalments scheduled automatically every 30 days. No interest or fees. Select the Klarna option and enter your debit or credit card information. To check your eligibility, Klarna will perform a soft search with a credit reference agency. This will not affect your credit score.
No interest. No fees. No impact to your credit score.
A new way to pay that's an alternative to a credit card.
3 instalments gives you flexibility to shop without interest or hidden fees.
Not making your payment on time could affect your ability to use Klarna in the future.
Debt collection agencies are used as a last resort.
You must be 18+ and a UK resident to be eligible for this credit offer. Pay in 3 Terms and Conditions
---
About Klarna
Pay online or in the app
Review your latest purchases and make payments in the Klarna app or online.
Safe and secure
With Klarna, you are always covered through Klarna's Buyer Protection policy. Modern safeguards protect your information to prevent unauthorized purchases.
Frequently asked questions
Visit our FAQ page (https://www.klarna.com/uk/customer-service/) to find out more about using Klarna.
About Klarna
At Klarna, we have a relentless focus on creating the best shopping experience in the world. We believe payments are so much more than just a way to send money. That's why our smooth checkout options give you more time and control so you can focus on the things you love.
More than 90 million shoppers are using Klarna.
200,000 retailers are working with us worldwide.
We're one Europe's largest banks and we've been powering online checkouts for over 15 years.
---
Tweeks Cycles acts as an introducer and not a lender of unregulated credit products provided by Klarna Bank AB (publ). Credit is only available to permanent UK residents aged 18+, subject to status, T&Cs apply.
Please note Pay in 30 days and Pay in 3 instalments is not regulated by the FCA. Borrowing beyond your means could seriously affect your financial status, ensure you can afford to make your repayments on time by the due date.
Please spend responsibly. Borrowing more than you can afford could seriously affect your financial status. Make sure you can afford your monthly repayments on time.
For international shipping please visit our delivery page.
For information about returning an item please visit our returns page.