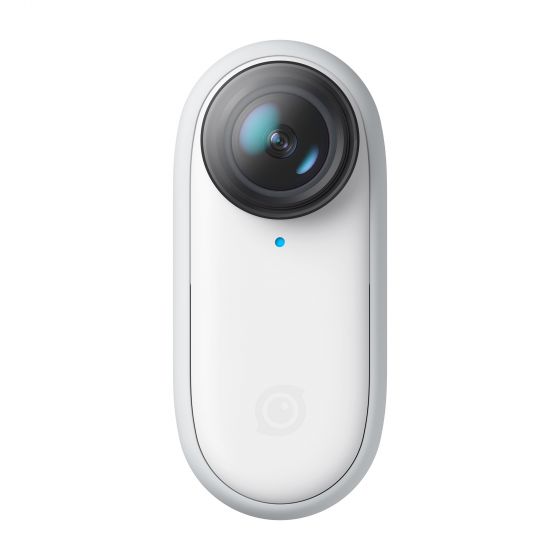 Insta360 GO 2 Action Camera
Welcome to the Insta360 GO 2 tiny action camera. Designed for maximum photography and filming performance in an ultra-lightweight and super-slim package, so you can continue to show off what you do best without being hindered by a large bulky camera.
Hands-free use
Can be mounted almost anywhere!
Speedup and slow down time with Hyperlapse and slow-motion filming
Auto editing
Given outstanding reviews from not one, not two, but twelve of the leading tech reviewers all raving about its performance, the GO 2 is a [email protected], 26.5g, videography heavyweight in a lightweight body.
Features
POV Capture enables you to capture the very best Point of View footage. Being 6 times lighter than your traditional action camera with the same size image sensor, the GO 2 can fit neatly on your shirt, attached securely via the magnetic pendant included.
Do not be mistaken, this is no small size, low-quality action camera, the GO 2's FlowState Stabilisation offers you buttery smooth goodness which removes shakes and bumps that many action cameras fall foul of. This means that whilst you're shaking it up and piling on the action, your video quality stays super cool ensuring to capture the best of every moment.
Horizon lock allows the aerial fanatics to capture spectacular footage of acrobatics and aggressive moves whilst the horizon levelling algorithms keep your horizon central as your picture moves around.
HDR Video mode allows you to enhance your footage by pumping up all the colours and enriching your life, because isn't everything better when it's brighter? Just hit HDR mode and record life in all its splendour.
Recorded an epic journey that you wish to speed through? Then the GO 2's Hyperlapse technology allows you to smoothly speed up to six times the original recorded speed to give you an awesome Hyperlapse piece for all you travel junkies. And for the stargazers amongst you, the timelapse feature will not disappoint thanks to the clever AI algorithms that automatically adjust exposure, so you always get the very best shot. Now let's not get ahead of ourselves, you can also find every detail in your captures by hitting slow-mo and reduce your video to 4 times slower with a super-smooth 120fps.
Calling all sea lovers, the GO 2 is IPX8 rated so you can dunk it up to 13ft of water making it ideal for surfing, pool parties, and shallow swimming or snorkelling. Add to this, the AquaVision AI tech makes your ugly blue haze from underwater shots disappear. Simply hit AquaVision in the app and the true colours of the underwater world will come to life.
*Included Lens Guard must be installed on the camera for underwater use.
The Charge Case
Why mention the charging case? Well, here's why. Firstly, charge this case up in just 30 minutes from your USB Type-C charger and you'll get up to 2.5 hours of shooting time, double what you'll get from most action cameras. Secondly, this case is a controller, capable of adjusting settings and hitting stop/record from up to 10m away, meaning you can hit record on your dog's journey even once they're already running away from you. Why buy a tripod when you have a case? Fold-out the tripod legs on the back of your case and mount anywhere for instant tabletop shoots. Even better than that, grab the case in your hand and record like a selfie stick, or even screw in a selfie stick to the hole in the bottom if you fancy.
The App
Download the Insta360 App for all the control and editing for some of the features mentioned above. The app also allows you to adjust your filming to suit your feed, whether you're filming a reel or a post, change the aspect ratio between 16:9, 9:16, and 1:1 to create the perfect video for all your socials.
Auto editing from FlashCut 2.0. takes your favourite clips and puts them in a unique personalised story and edits them in such a way that they play along to the beat of a soundtrack. This can be done via a chosen template or let it decide for you and create a masterpiece.
Lastly, how do you know what it's looking at? Well, the Insta360 app lets you preview videos in real-time over Wi-Fi and lets you adjust settings to get the very best shot before the action starts.
What's In The Box?
In this kit you get either the 32GB or 64GB GO 2 camera depending on your selection and a multifunction charge case as mentioned above. The Lens Guard included helps to keep your GO 2 safe from scratches, drops, falls or any accidental damage and allows you to use it underwater.
A wide range of mounting options come from the attachments included. The Magnetic Pendant for POV filming simply hangs around your neck and slides under your shirt, acting as a magnetic point for quick mounting to your chest through your clothing. The Pivot Stand features a sticky base and has a foldable design that allows you to easily angle your shots and store your camera in the smallest possible package. The Easy Clip mount enables you to clip your camera to a hat, strap, or headband and angle as you see fit. Lastly, you get one USB Type-C charge cable for fast 30-minute charging to keep you topped up, so you never miss a moment of the action.
If you opt for the Strap Mount Bundle then you get the 32GB camera only but add to the list of mounts the Telesin Head Strap, Chest Harness, and Action Mount with prongs for fitting to widely used mounts thanks to the handy prong screw clip included in this bundle.

Detailed Contents:
1x Insta360 GO 2
1x Lens Guard
1x Charge Case
1x Charge Cable
1x Magnetic Pendant
1x Easy Clip
1x Pivot Stand
1x QuickStart Guide
1x Telesin Head Strap (Strap Mount Bundle Only)
1x Telesin Chest Harness (Strap Mount Bundle Only)
1x Telesin Action Mount with prongs (Strap Mount Bundle Only)
| | |
| --- | --- |
| Brand | Insta360 |
| MPN | ICCING2XX/F, ICCING2XX/A, ZICCING2XX/AK3 |
Shop now. Pay later with Klarna.
We're excited to announce we have partnered with Klarna to bring you new ways to pay at checkout.
Here's how it works

Step 1
Add products to your cart and select "Klarna" when you check out

Step 2
Enter a few personal details and you'll know instantly if you're approved

Step 3
Klarna will send you an email confirmation and reminders when it's time to pay and you can manage your orders and payments in the Klarna app.
---
Payments Information
Pay in 30 days
Make your purchase today so you can try before you buy. Only pay for what you keep. Pay up to 30 days later. No interest. No fees. No impact to your credit score.
Paying after delivery allows you to try before you buy and is the easiest way to shop online.
Complete the payment in full after purchase at no added cost.
Report returns directly in our app and only pay for the items that you keep.
Not making your payment on time could affect your ability to use Klarna in the future.
Debt collection agencies are used as a last resort
You must be 18+ and a UK resident to be eligible for this credit offer. Pay Later Terms and Conditions
Pay in 3 interest-free instalments
Spread the cost of your purchase into 3 interest-free instalments. The first payment is made at point of purchase, with remaining instalments scheduled automatically every 30 days. No interest or fees. Select the Klarna option and enter your debit or credit card information. To check your eligibility, Klarna will perform a soft search with a credit reference agency. This will not affect your credit score.
No interest. No fees. No impact to your credit score.
A new way to pay that's an alternative to a credit card.
3 instalments gives you flexibility to shop without interest or hidden fees.
Not making your payment on time could affect your ability to use Klarna in the future.
Debt collection agencies are used as a last resort.
You must be 18+ and a UK resident to be eligible for this credit offer. Pay in 3 Terms and Conditions
---
About Klarna
Pay online or in the app
Review your latest purchases and make payments in the Klarna app or online.
Safe and secure
With Klarna, you are always covered through Klarna's Buyer Protection policy. Modern safeguards protect your information to prevent unauthorized purchases.
Frequently asked questions
Visit our FAQ page (https://www.klarna.com/uk/customer-service/) to find out more about using Klarna.
About Klarna
At Klarna, we have a relentless focus on creating the best shopping experience in the world. We believe payments are so much more than just a way to send money. That's why our smooth checkout options give you more time and control so you can focus on the things you love.
More than 90 million shoppers are using Klarna.
200,000 retailers are working with us worldwide.
We're one Europe's largest banks and we've been powering online checkouts for over 15 years.
---
Tweeks Cycles acts as an introducer and not a lender of unregulated credit products provided by Klarna Bank AB (publ). Credit is only available to permanent UK residents aged 18+, subject to status, T&Cs apply.
Please note Pay in 30 days and Pay in 3 instalments is not regulated by the FCA. Borrowing beyond your means could seriously affect your financial status, ensure you can afford to make your repayments on time by the due date.
Please spend responsibly. Borrowing more than you can afford could seriously affect your financial status. Make sure you can afford your monthly repayments on time.
For international shipping please visit our delivery page.
For information about returning an item please visit our returns page.